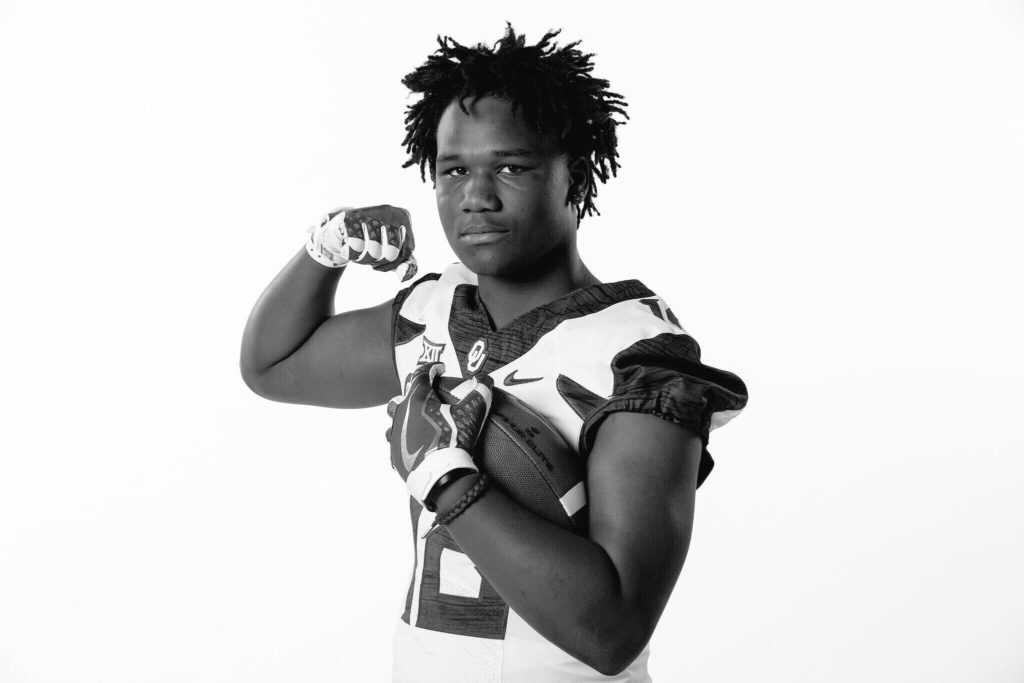 Boom News | 2019 OLB Jonathan Perkins Commits to Oklahoma
Posted on: April 18, 2018
Image via Perkins' Twitter
2019 OLB Jonathan Perkins has committed to the Sooners.
#BoomerSooner ⭕️? pic.twitter.com/GZfMx4EAAt

— Jonathan Perkins (@Jperkins_21) April 18, 2018
Perkins, a California product, was offered back in October of last year.
GLORY BE TO GOD! BLESSED TO BE OFFERED A SCHOLARSHIP TO THE UNIVERSITY OF OKLAHOMA! THANK YOU! @OU_CoachKish #BoomerSooner #OUDNA ?⚪️ pic.twitter.com/qoBa0GvpBw

— Jonathan Perkins (@Jperkins_21) October 19, 2017
Perkins committed to UCLA, his first offer, in the summer of 2017. About a month after the Oklahoma offer, he announced his decommitment from UCLA. Still, OU has battled a host of top schools for the talented LB: Auburn, LSU, Nebraska, Texas A&M, and UCLA are among the schools that have offered Perkins.
Connections to the Sooner state didn't hurt OU's chances in the recruitment process. With family from Tulsa, Jonathan has mentioned visiting Oklahoma on many occasions. In fact, his brother lives in OKC. Additionally, he's friends with several current players.
"The connections to the Sooner state don't stop there. Perkins actually has connections to the program as well. He's friends with current Sooner players TJ Pledger and Bookie, 'Me, TJ, Bookie, Chris [Steele] we all played seven on seven together for Proway.' " TFB: Perkins OK Connection + Insider Notes (2.13.18)
Perkins went on to rave about Coach Kish.
" 'I feel like Coach Kish is a good coach. We have the relationship that I'm looking for. It's about trust and I trust him. I really trust him', Perkins very genuinely said."
Although Oklahoma is certainly a distance from home, Perkins' parents encouraged him to go out and play at the highest level he could.
One of the major events to tip the scales towards OU was the February Junio Day in Norman. Perkins spent all weekend hanging out with TJ Pledger and Bookie, feeling like they were back home in California. He knew then that he wanted to get his parents down to Norman to see for themselves.
#BoomerSooner ⭕️ pic.twitter.com/HcStQGJtsl

— Jonathan Perkins (@Jperkins_21) February 19, 2018
The now Sooner commit is an elite prospect. TFB's own Super K had this to say about him:
"Perkins knows he is the perfect Big 12 linebacker. He said the Sooners are recruiting him as an every down OLB but it's still a bit up in the air. With athletes like Perkins, you can kind of figure it out later. Perkins measured at 6"1, per last year's regional Opening. In terms of weight he says he's now over 205 lbs.
He began is high school football career as a safety but moved to linebacker last year. It's obvious. If you watch Perkins open up and drop, he eats up space fast. He can open up one direction and effortlessly flip his hips and already gain depth in the opposite direction. His downhill speed is fast and he closes violently.
Watching Perkins read the play coupled with his tenacity, he actually moves like a guy who could even be comfortable wading through the trash inside. His ability to check receivers and mirror them on the inside is great."
Perkins' announcement continues the flood of commitments OU has received from elite recruits since last Friday. He is the 10th commit in the 2019 class. And, although rankings don't tell everything, the Sooners now have the number one spot across all recruiting serves. Riley and co are on a roll.