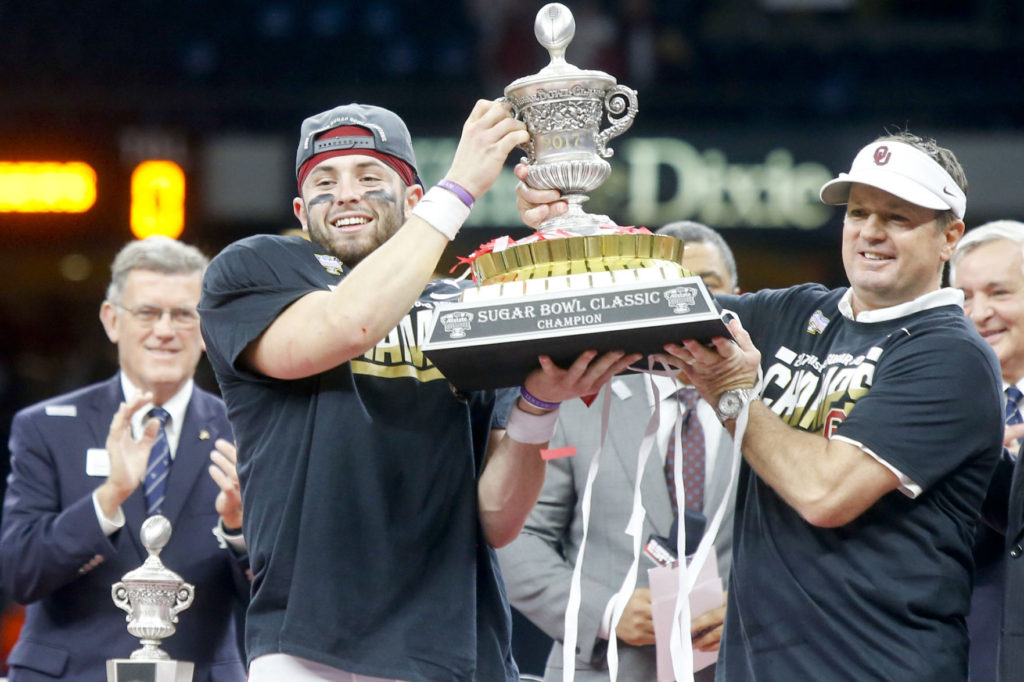 Bob Stoops – Spring Football Opening Presser (UPDATED 1:02 PM)
Posted on: March 20, 2017
Image via Tulsa World
Spring football practice starts tomorrow, a Bob Stoops presser today, warm weather is here in the great state of Oklahoma… good things are happening people. Although spring football is often just a hint of things to come, it's still good for football fans everywhere to begin to see what the upcoming season will look like.
Stoops' presser is expected to begin around noon today. It should be available via SoonerSports.com by following the link below.
Happy first day of spring! Coach Stoops kicks off spring ball with a press conference live at noon.

➡️ https://t.co/LFYEGgRWwg pic.twitter.com/KsJafrO3qL

— Oklahoma Football (@OU_Football) March 20, 2017
We'll be keeping you updated in the comments as the conference unfolds, and we'll put together a few quick summary thoughts after. Feel free to hang out, follow along, and join in the comment section.
UPDATE: For whatever reason, we're having some issues with Disqus at the moment. Hoping to get a workaround soon – sorry for the inconvenience.
UPDATE (1:02)
We wanted to throw together a few quick highlights from today's conference. This isn't a complete summary, but it does hit on a few notes of interest.
Practice starting later than usual was the first comment. Stoops mentioned that one reason for this was to give early enrollees extra time to prepare for spring
Rodney Anderson will be limited in practice, but he's good to go. "If we had a game next week, he could play."
Steven Parker (shoulder) and Obo will both be held out of spring practice.
Kyler Murray is still recovering from his hamstring injury and will be checked out later today.
Stoops confirmed the approach of more 4 down linemen sets (hurray!). He expanded on this later, mentioning that the set will depend greatly on what the situation is and who the opponent is.
No action or decision will be made regarding Mayfield until the process is complete.
Mark Andrews was hampered at times last year, causing him to miss some practice. This will be a year for him to be fully healthy and a key to the offense.
Mentions Mead, Jordan Smallwood, Dahu Green, and A.D. Miller by name as receivers looking to make a statement using their previous game experience.
Caleb Kelly will be looking to get even more pressure in the backfield, and will be seeing a lot of action (thank goodness).
Both Rick DeBerry and Kapri Doucet will be looked at as inside linebackers. Makes for a lot of competition at that spot.
Stoops mentioned Marcelias Sutton by name as a potential guy for punt returns.
Mykel Jones has a lot of potential, and they look for him to take the next step.
Kahlil Haughton will be at strong safety for now with Steven Parker out, while Will Sunderland is taking the free safety snaps.
Stoops confirmed Gabriel Campbell won't be playing anymore.