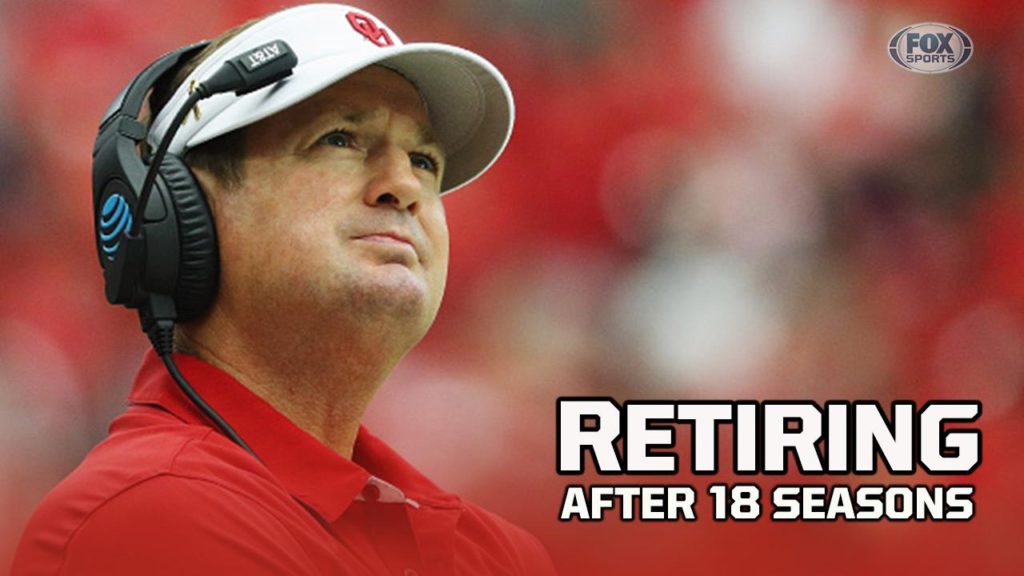 Bob Stoops Retiring
Posted on: June 7, 2017
Image via Fox Sports Twitter
Bob Stoops is stepping down effective immediately, as of Wednesday afternoon. Lincoln Riley will take over head coaching duties.
Oklahoma football coach Bob Stoops will retire after 18 seasons. https://t.co/sjayzN1m1l

— USA TODAY Sports (@usatodaysports) June 7, 2017
Stoops was the longest-tenured coach in college football, having coached for 18 seasons. He transformed the program back into the perennial power it used to be, winning a national championship in his second season. Stoops won 10 Big 12 Titles, reached double-digit wins in 14 seasons, and routinely went toe-to-toe with the biggest programs in the nation.
Speculation is running rampant on reasons for Stoops stepping down. Although health has been a popular theory, reports are in stating that health was not a factor.
Already, the focus turns to Lincoln Riley. Sources have told TFB that Riley will also continue to call plays, although that plan may change. This has apparently been the plan for some time.
SOURCE: Bob Stoops & #OC AD Joe Castiglione have been grooming Lincoln Riley for this situation for over a year. https://t.co/yGy5Dv3i9R

— Bruce Feldman (@BruceFeldmanCFB) June 7, 2017
Some cite his youth as a cause for concern: I'll leave this here.
Lincoln Riley is 33. Bud Wilkinson was 31 when he took over at #OU. Chuck Fairbanks was 34; Barry Switzer was 36 & Bob Stoops was 39.

— Bruce Feldman (@BruceFeldmanCFB) June 7, 2017
Recently, TFB wrote an article concerning Riley and what his future may hold. One of the possibilities was that Riley may take over for Stoops when Stoops retires, although that possibility was thought to be several years down the road.
Some thoughts on OU's offensive coordinator Lincoln Riley – what's happened and what's to come (via @TFB_Sooners) https://t.co/R0xD9la30T

— Ryan Lewis (@RyanLewis_TFB) May 17, 2017
What the future now holds is unclear, but OU is in good hands with Lincoln Riley.