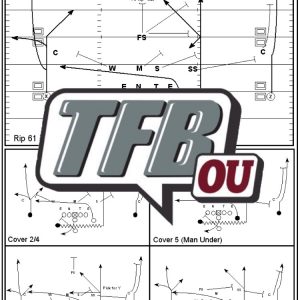 Alex Grinch | Defensive Identity | Part One
Posted on: January 7, 2019
In an effort to provide our readers with as much insight into what Alex Grinch will bring to the table as the Sooners new Defensive Coordinator, we have brought in Cody Alexander to provide us with a multi-part in-depth series of notebooks.
Cody Alexander is currently the Secondary Coach at Midlothian HS (5A DII – TX) and author of MatchQuarters.com. He has written two books on defending modern offenses, Cautious Aggression: Defending Modern Football (2017) and Hybrids: The Making of a Modern Defense (2018).
Coach Alexander was the Defensive Graduate Assistant at Baylor University under former Arizona St. and Baylor Defensive Coordinator, Phil Bennett. During Coach's tenure at Baylor, he assisted with the development of the corners and was placed in charge of opponent breakdowns.
---
Want to know what the new Sooner defense will look like in 2019? New Sooner Defensive Coordinator Alex Grinch clearly lays it out in this statement:
"The scheme is designed to let players play fast. It's a downhill approach. We work into gaps in our front and speed is our calling card. Today's offenses are built on space and speed. You have to combat that with speed of your own. With speed on defense, it affords you the opportunity to run a multiplicity of coverages and fronts."
There is a lot of "coach speak" in this statement, but when looking at Grinch's track record as a DC at Washington State you can break down that statement into an overall philosophy. One thing Grinch does have is a track record for getting more from his players. In his final year at Washington St. (2017), Grinch's defense finished 17th in Defensive Efficiency. That means they consistently ahead of the chains and forced offenses into long yardage or unfavorable situations. Yards and points scored against are great metrics, but efficiency tells you how dominant a defense is on the every down. The 2017 performance by the Cougars established Grinch as an up-and-coming DC in the college game. To take an educated guess at what the Sooners are going to look like in 2019, you have to go back and see what Grinch did the last time he called a defense.
Looking at 2017, let's break down the key phrases in his statement:
"It's a downhill approach. We work into gaps…" – This statement explains the structure of Grinch's defense. Grinch will single-gap fit his front seven. This allows each player to understand their responsibility and play fast, or as Grinch stated, "downhill." This is important because it eliminates guessing and allows the players to react. You have one job to do.
Sometimes simplicity is best when defending the high-powered offenses in the Big 12, but don't confuse simplicity for static. Grinch will be multiple at every level.
"You have to combat [offensive speed] with speed of your own." – As a base, the Sooners will most likely align in a hybrid 3-4, much like they did under Mike Stoops. The main difference though will be in structure. Grinch plays with a true Nickel that can align in coverage or play near the box. The hybrid DE aligns away from the Nickle and is much like you would find in most modern 3-4, a hybrid player that can be utilized as a rush DE. Like most hybrid defenses, the Nickle and hybrid DE never align on the same side. Not saying that they won't but most the time they work away from each other.
"With speed on defense, it affords you the opportunity to run a multiplicity of coverages and fronts." – Grinch aligns with what most top defensive coordinators are doing today, using hybrid players to get speed on the field. Grinch will use five DBs as a base and can use his hybrid DE/OLB in coverage or as an extra rusher. The Hybrid DE/OLB allows Grinch the freedom to manipulate coverages and fronts because he can drop into pass coverage, fold into the box, or set an edge as a run fitter. The fluidity in which the use of hybrid players will bring a modern approach to the Sooner defense.
"…multiplicity of coverages and fronts." – When looking at a Grinch defense you will see a constant change in front and secondary alignment. What looks like a mixed-bag of calls is really coordinated organized chaos. This is the point. Versus modern spread offenses, if a defense chooses to stay in static alignments, the offense will identify and attack the deficiency. Sitting still will get you beat. Grinch chooses to attack an offense by constantly moving. This can be pre-snap with defensive line stems (show one front then prior to the snap move to another), or post-snap with line movement. Sometimes it is both. The hybrid DE helps with this multiplicity. Sometimes he is a true DE while other times he drops into coverage on the snap of the ball while a LB replaces him in his rush. The hybrid 3-4 allows Grinch to bring multiple pressures while keeping a simple structure. The defense will move from four-down to three-down and back again, sometimes in the same snap!
Secondary wise, safeties will drop into the box while LBs vacate it. One thing is clear, the safeties will be asked to fit the run, especially the weak side safety who will be counted on as the extra fitter to the weak side. Grinch will probably base out of a Quarter system utilizing man coverage by the CBs outside and bracket coverage inside. Versus two-back or TE sets, the back-side safety will play what is referred to as invert coverage, meaning he will sink near the box post-snap. This aligns with Grinch's statement about being aggressive and downhill. There will be plenty of different coverage manipulations that allow Grinch to give different looks and take away an offense's top target.
The Nickle will be used in various ways too. Most the time he will be asked to patrol the edge of the box while helping out in the pass coverage. The use of a coverage man near the box allows Grinch to manipulate who is responsible for the edge of the box. Sometimes Grinch will ask the Nickel to take the slot (usually the safety's responsibility) and allow the field safety to invert into the edge of the box. This can be confusing to spread offenses that utilize Read or Option schemes in their run game. As illustrated, at every level Grinch is being multiple at every level. This is the way modern defenses can attack the modern spread offense without living in a blitz-centric, man coverage scheme that over time will get you beat.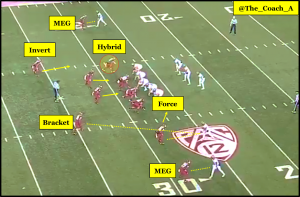 Conclusion
Grinch was able to develop a defense at Washington State that was above average in an offensive league like the PAC-12. It is not something that is easy to do, especially when your Head Coach and offensive counterpart is none other than Mike Leach. Being able to establish control on the defensive side of the ball behind a high-powered offensive mind like Leach is what makes Grinch a no-nonsense hire for Lincoln Riley.
He's young, knowledgeable, has worked at an established "blue-blood" program under a Hall of Fame coach in Ohio State and Urban Meyer. This hire makes sense.
There is a learning curve in the Big 12, but Grinch's experience in a similar league like the PAC-12 should prove to accelerate his adjustment. Oklahoma also has the luxury of going after top talent in the country. If Riley can continue to produce top five offenses, and Grinch can steady the waters on the defensive side of the ball, the sky is the limit for the Sooners.