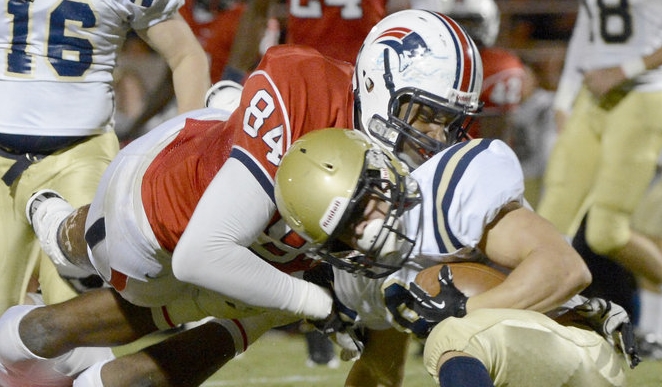 A Heart to Heart About Dwayne Orso – With Notes from His Coach
Posted on: November 15, 2013
Photo from AL.com (photographer: Mark Almond)
One of these days I'm going to write a series on what is wrong with the recruiting process and, perhaps more importantly, what is wrong with the corporate evaluation sites' evaluation "process". But now is not that time. What I will tell you is something I've mentioned before; there are a lot of reasons that kids get overlooked or don't get offers and many of them have absolutely nothing to do with their ability to play football. The NFL is littered with guys that we're highly sought after coming out of High School. Oklahoma has tried the path of only recruiting the guys everyone wanted. In fact last years D-line was made up mostly of highly touted Dlinemen from Texas (one of these days I'll also tell you why you don't recruit your D-linemen from Texas – unless they were like Charles Walker/Trey Carter who are originally from Louisiana) and the only one of those guys still playing in the league is the Okie from Muskogee who was suspended for half of last season. Nowadays Oklahoma is looking for players. And they found one in the heart of SEC territory.
I want to spend a few moments talking about Dwayne Orso. And even though I've already talked about him a little (https://thefootballbrainiacs.com/?p=1066) he deserves more praise than what one article can do. One of the many things that really burns me up about the corporate recruiting ratings is that they create this artificial, and many times baseless, value or lack thereof on a young football player. A fan base will look at a kid and without knowing anything about him they'll shake their heads in disappointment and sarcastically say, "oh boy we got a 2 star". I get that evaluating players, students, work, etc. is part of life but Dwayne is not a 2 star! Don't let anyone tell you otherwise, especially not the journalists acting like talent evaluators. If Oklahoma lands Dwayne then they've got something to be excited about.
I've had a chance to speak to one of Dwayne's coaches, mentors and friends. We had a long and interesting conversation about what I see and what he sees everyday. This is a coach that not only knows Dwayne as a person and a player but also knows football. He's a guy who has played college ball and has seen some great D-linemen play in Alabama HS football, guys who currently play in the NFL including at least a couple who are household names. And he told me straight, "Dwayne is better at this point in his career than they were." The scary thing? He feels like Dwayne's ceiling is so high that he can't even begin to assess or describe it.
Football guys know everyone claims to be 6'5 but there is a big difference between 6'4 and 6'5. Dwayne is one of those rare 6'5 guys and he's "slim" even at 255 lbs. In other words there is no telling right now just how big he can be. Oklahoma is currently looking at him as a 4i DEnd but Dwayne's coach admitted that he might very well grown into a nose guard. He's that big. He has a huge frame – big feet, big hands, long body. Homewood Alabama High School, Dwayne's High School, is home to another great lineman; star offensive lineman Jordan Sims. Jordan boasts offers from Ole Miss, Alabama, Oklahoma and the list goes on and on. And let's just say that the matchups between Dwayne and Jordan are competitive! In other words Dwayne can, and does, go up against the best and he can handle business.
I could go on and on about how guys as big as Dwayne don't grow on trees and how guys as big as Dwayne that can move like him are even more rare but I've probably covered that ground in my previous post. What you really need to understand is that in terms of his skills, strength, quickness, hand usage, etc. he's still only scratching the surface. Dwayne grew up more of a basketball guy but he's dead set on football now. Again, that should remind OU fans of Charles Tapper. As I said in my previous post though, Dwayne has qualities Tapper just doesn't. And that isn't a knock on Tapper because he is going to be a fantastic player. Rather, it's a compliment to Dwayne and what he can be. When Coach Montgomery visited Dwayne last week he was amazed by just how big Dwayne is. Again, people will tell you their kid is 6'5 and has long limbs and big hands but its rarely true. In Dwayne's case it is. He's all of it and might even be a little more. When this kid gets on an Oklahoma diet and gets in the weight room he's going to be a monster.
If you think those corporate evaluation sites don't influence college coaches then you've probably never been around many coaches. But as I said earlier, this year Oklahoma has made a conscious effort to really focus on evaluating talent regardless of how highly touted a player is. They're looking for high ceiling kids that they can develop and will fit into their scheme. Even though schools like Mississippi State are starting to take notice of Dwayne, when Coach Montgomery visited Homewood HS he told Dwayne that he didn't care who else wants him. Coach Montgomery said, "I've got eyes!" That's just another reason why I know you are watching the resurgence of old school Oklahoma defense. That's what they used to call defense before they called it "SEC defense". If Oklahoma has to grab players from SEC territory to do it; then so be it. Believe me, they've got a lot. And if Oklahoma can manage to land Dwayne Orso then the fan base should jubilantly cheer "Oh boy we got a star!"