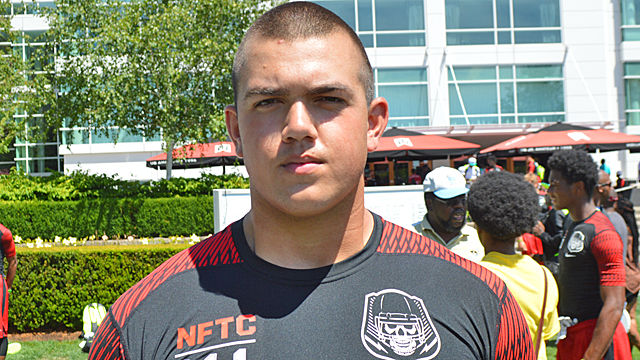 A Few Thoughts on Dru Samia
Posted on: August 10, 2014
Image via Scout.com
Last week 2015 offensive lineman Dru Samia (Danville, CA) flew into Norman for an unofficial visit. He came to campus without an OU offer, but left with one in hand and was very excited about it. Samia currently holds offers from schools like Arizona, Cal, UCLA, and others. I've had a chance to catch up with Dru so we'll have a recruiting update about him this coming week, but for now I wanted to give y'all a few thoughts on Dru's game.
At a NFTC event last spring, Dru measured in at 6'6″ and nearly 300 lbs. So he's got great size for a kid who hasn't even entered his senior year yet. He looks like a surefire tackle prospect to me. However, he looks a bit more comfortable in pass protection at this point than in the run game. But I love how active he is. The kid really plays hard. He's always hustling and chasing the ball. He's a very raw prospect who needs some upper body development and more mass on his hips. At 300 lbs he looks much more like a kid who's 260 or so. That being said, he has the frame to add 20 pounds and be a monster at 320. I can see why Coach Bedenbaugh likes him.
1. While he's not going to wow you with athleticism, he's plenty athletic enough to play the tackle spot.
2. He's an extremely hard worker with a great frame that you can mold on both points.
3. The infrastructure at Oklahoma, with nutrition and strength in conditioning, would be something he would flourish in.
In talking to Dru, he strikes me as the kind of kid who comes in and works his butt off to turn into a player who makes you ask yourself 'where did he come from?' when it's all said and done. Bedenbaugh loves these kind of prospects who have the right mental mindset and fits a physical mold that's needed to be successful.
Samia is a Right Tackle to me. If he can come in and continue to develop his athleticism and technique, he may be able to play the left tackle spot. But for now I'd project him on the right side.
Would really like to see Oklahoma fight off some of the schools out west to win Dru's commitment. He'd be a great addition to the class and ensure that OU ends this year with at least two high quality OTs. Add him and Bobby Evans to Orlando Brown and Kenyon Frison from year's last class, and you've got some really good young talent that give OU depth/competition at the tackle spot and rotation in the coming years.