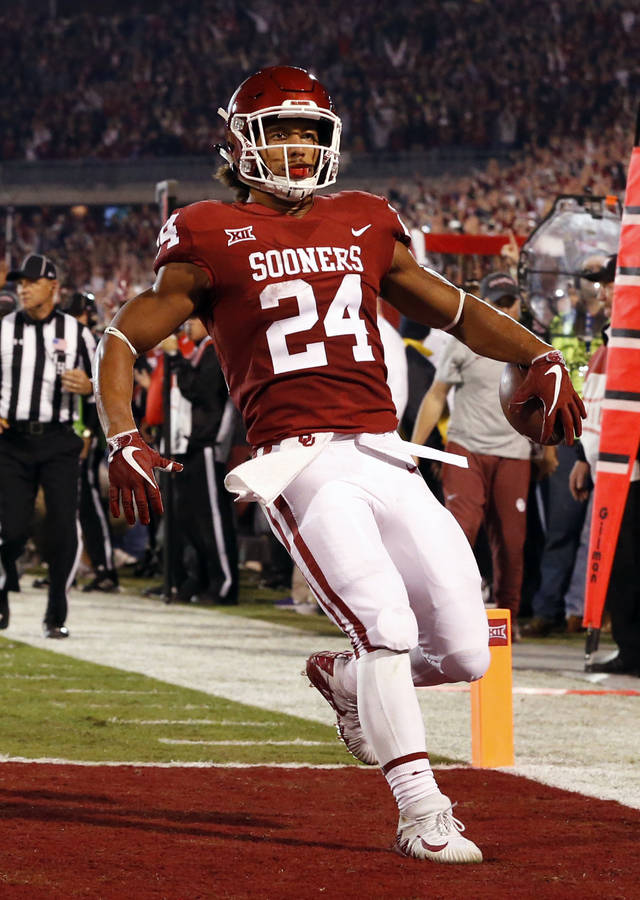 2018 OU Spring Position Preview: Running Backs
Posted on: March 10, 2018
Image via NewsOk.com
Spring practice is almost underway, starting March 10th. Over the next few weeks, we'll be previewing each position group and adding any notes we hear about player performance along the way.
The Sooners have a lot of momentum heading into the spring. A 2017 campaign that was supposed to focus on Baker Mayfield's final season in Norman ended up sharing the spotlight with Lincoln Riley's first year as head coach. Riley and Mayfield led OU to a huge non-conference win over Ohio State, some big conference wins down the stretch, a Heisman trophy, and a berth in the College Football Playoff. Despite an exit from the Playoff before making the Championship game, the Sooners showed everyone that the Lincoln Riley era in Norman is going to be a fun one.
The Sooners lost several key pieces of the 2017 campaign to graduation and the NFL draft, but retained a lot of experience at several positions. We'll look at each position group, focusing on the group's key contributors to see where they are now and what they might become during football season.
Quick Position Overview
Going into the 2017 season, running back may have been the area with the most turnover for the Sooners. Samaje Perine and Joe Mixon were both NFL bound and over 80% of 2016's running yardage departed, leaving the amount of returning experience remarkably low.
This year, while several guys are departing, there are guys with great game experience returning. Fullback lost a lot of experience in long-time starter Dimitri Flowers, along with the departure of Jaxon Uhles. Jeremiah Hall will be looking to step into that role.
At running back, Abdul Adams elected to transfer to Syracuse this winter.
NEWS: RB Abdul Adams (@Abdul_Adams2) joins #OITNF ??

More on the talented transfer from Oklahoma ?https://t.co/u3hgVG5Jba pic.twitter.com/Wmyjc4WweY

— Syracuse Football (@CuseFootball) January 22, 2018
However, Rodney Anderson, Trey Sermon, and Marcelias Sutton all had moments to shine in 2017 and look to improve in 2018. Kennedy Brooks will hopefully be fully healthy and ready for action. Additionally, talented newcomer T.J. Pledger will look to earn some playing time early.
Scholarship Players

Rodney Anderson:
Anderson was finally healthy in 2017, and it sure was fun to watch. While he had the option to declare for the NFL Draft, Anderson chose to return and gave the offense a major boost. The 2017 season started off slow for him, as he worked to shake off some apparent rust. The Texas game was his first big performance of the season, and it was to be followed by many more. The combination of power, speed, and agility that Anderson possesses is remarkable, and once he got comfortable with it there was little defenses could do to stop him.
Anderson's biggest performance of the season came against TCU in a game that saw him gain almost 300 yards from scrimmage. He was virtually unstoppable, finding the endzone four times in the first half and breaking tackles at will.
Eligibility notes: Anderson was able to take a redshirt for the 2015 season. For the 2016 season, his situation is slightly less clear. My understanding of the "medical hardship waiver" is that a player must compete in less than 30% of the season's game and must have had a season-ending injury. Both of those stipulations can emphatically be answered "yes" for Anderson in 2016 (and 2015 to be fair). This waiver is not usually applied until later in an athlete's career. It is rare for players to get 2 extra years (one a redshirt, one a medical waiver). Still (looking at you Jason White), there are examples of it happening when both seasons ended due to completely uncontrollable circumstances. All of that, however, is moot unless Anderson can stay healthy. It is also unlikely that he would stick around for 6 total years even if healthy, as many backs decide to pursue an NFL career before their body takes too much abuse. If Anderson continues to improve in 2018 the way he did in 2017, the NFL will be ready for him.
Lincoln Riley enjoys keeping a defense guessing and featured different backs in different games in 2017. Even with that tendency, Anderson could not be kept off the field the second half of the season. Many around the nation believed he was possibly the best running back in college football the second half of the season. He was the featured back throughout that stretch, and all indications point toward that being the case again in 2018.
Trey Sermon:
Trey Sermon entered 2017 a true freshman and many thought he would get a chance to shine early. At 6'0" and 222, Sermon is a punishing running back: Exhibit A.
#Sprayberry HS (GA) alum & #Oklahoma #Sooners RB Trey Sermon (@treyera) runs slap over somebody on that run #RoseBowl pic.twitter.com/aVdFE3maBD

— Sleeper Athletes (@SleeperAthletes) January 1, 2018
Sermon's breakout game came early against Ohio State, as he used with great effect to close out the Buckeyes.
He remained a heavy contributor throughout the season, having several additional big games, often in a closing role. Sermon will be used even more heavily in 2018, complimenting the style of Anderson well.
Marcelias Sutton:
Sutton, an explosive transfer from Lackawanna CC football, is entering his senior season. While there was potential to use his speed in 2017, Coach Riley had so many options that Sutton was not often used. His primary responsibility ended up being on kick returns, where he will look to continue being used in 2018. With the departure of Abdula Adams, Sutton will vie for the spot of third on the depth chart. That will be made tough, however, due to the availability of two young guys, including…
Kennedy Brooks:
A shoulder injury forced Brooks to redshirt during his freshman season. While he may have redshirted regardless due to the talent ahead of him, it was nevertheless disappointing to see him hurt. Brooks will look to bounce back this year.
He has a big frame and put on a solid 10 pounds his freshman season. If Brooks is fully recovered from his shoulder injury, there's no reason he won't get some playing time in 2018.
T.J. Pledger:
One of OU's early enrollees in the 2018 class is T.J. Pledger. He is an extremely talented and speedy running back, with great field vision evident in his film. He is someone that TFB has already heard very positive things about in the short time he has been on campus; "quick and explosive" are some of the descriptions associated with him.
TFB caught up with his family this winter to learn more about them:
TFB with the Family focuses on @mrspledger, mother of @uno_tj – get to know their family as they become #Sooners (via @TFB_Sooners) https://t.co/92RJQWBIMl

— Ryan Lewis (@RyanLewis_TFB) January 3, 2018
Pledger is a very versatile back and will be hard to keep off the field in 2018.
Jeremiah Hall:
OU has a habit of taking versatile fullbacks and using them in a variety of ways, turning them into fan favorites. Dimitri Flowers was the latest in that line of backs, and Hall will look to continue that streak. He redshirted in 2017 and will enter 2018 ready to play.
TFB's own Brandon Drumm had some notes on Hall in a post on February 21st:
"A guy to watch out for this spring is Jeremiah Hall. I know it may be surprising, but once source said Hall may end up being better than Flowers. Source said Hall is even more athletic than Flowers with greater upside."
That's high praise for the redshirt freshman. Look for him to transition well into the Flowers role.
Summary
Running back is a position with a lot of returning experience and new talent. Rodney Anderson appears to be the clear front runner for the main guy, with Trey Sermon right behind him. However, Sutton, Brooks, and Pledger all have excellent opportunities to earn play time. With a lot of different running styles and versatility, this is a position Sooner fans should be borderline giddy about for 2018.