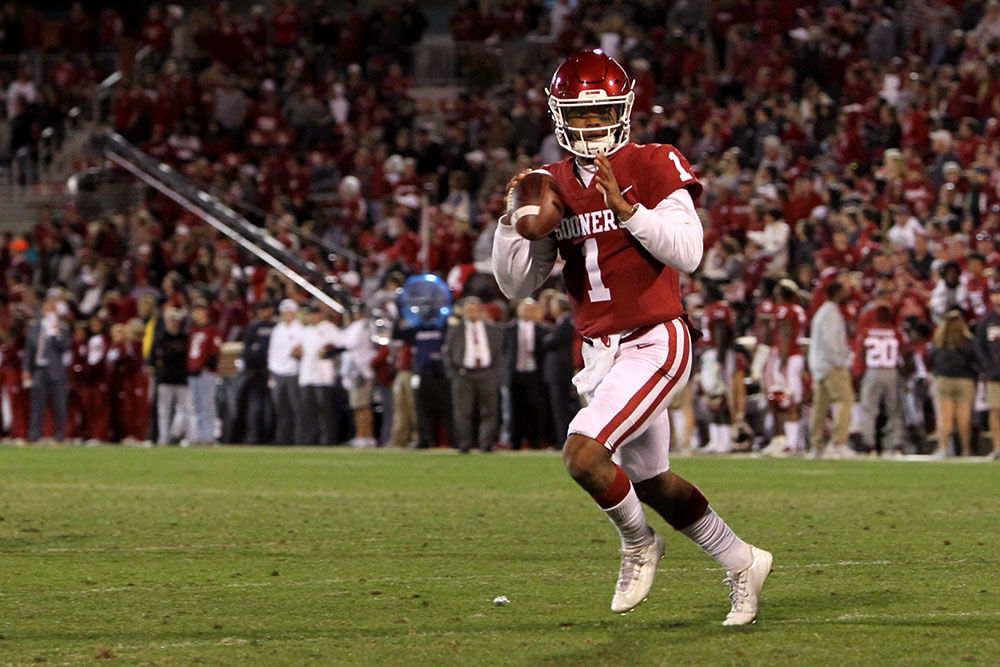 2018 OU Spring Position Preview: Quarterbacks
Posted on: March 8, 2018
Image via OU Daily
Spring practice is almost underway, starting March 10th. Over the next few weeks, we'll be previewing each position group and adding any notes we hear about player performance along the way.
The Sooners have a lot of momentum heading into the spring. A 2017 campaign that was supposed to focus on Baker Mayfield's final season in Norman ended up sharing the spotlight with Lincoln Riley's first year as head coach. Riley and Mayfield led OU to a huge non-conference win over Ohio State, some big conference wins down the stretch, a Heisman trophy, and a berth in the College Football Playoff. Despite an exit from the Playoff before making the Championship game, the Sooners showed everyone that the Lincoln Riley era in Norman is going to be a fun one.
The Sooners lost several key pieces of the 2017 campaign to graduation and the NFL draft, but retained a lot of experience at several positions. We'll look at each position group, focusing on the group's key contributors to see where they are now and what they might become during football season.
Quick Position Overview
Breaking: The Baker Mayfield era at OU has come to a close. After breaking all sorts of records, never losing a true road game, taking two trips to the playoffs, and winning the Heisman, Mayfield will be departing to the NFL. While there was often focus on actions beyond his play at quarterback, Mayfield was simply incredible. He leaves with the two highest single-season passing efficiency ratings ever, the second-highest career passing efficiency rating ever (right behind Sam Bradford), the highest and third-highest yards-per-attempt in a single season, and many more records. Mayfield leaves as one of the greatest to ever don the crimson and cream and will be missed. On the plus side, we'll always have this: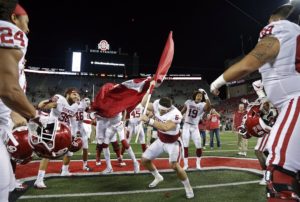 Image via Kyle Robertson
The Sooners will now look to two returning players and a new face to keep the quarterback play at a high level.
Scholarship Players

Kyler Murray:
The quick former Texas A&M quarterback was finally eligible to play in 2017 and didn't disappoint in the moments he had on the field. He is a former 5-star recruit, and one of the best high school football players to come out of Texas in recent memory, with incredible on-field speed that can bring a different dynamic to the Sooners offense. Murray is widely thought to be the successor to the quarterback spot.
Although Murray is unquestionably an excellent passer, it is foolish to think that he will be as efficient throwing the ball as Mayfield was. With that said, Kyler can sling the ball well. He has a big arm and has proven himself accurate, improving in the two years he has been in Norman. The real change Murray will bring to the offense is in the quarterback run game. OU has had some good running quarterbacks in the past 20 years, but few were burners in the way Kyler Murray is. Look at him break away from the first level of defenders here:
The guy can fly, no doubt about it. Coach Riley is going to have some serious fun with someone that fast in the backfield. He has proven that he designs plays to fit the personnel on the field. One play that comes to mind is the option against Ohio State (which can be seen at the 1:50 mark in the video below). It was a handoff to Trey Sermon that Sermon quickly pitched back to Murray. While it worked well, there was certainly potential for it to be an even bigger gain. It will be entertaining to see what Riley draws up.
One potential cause for thought on Murray is his baseball career. The 2018 baseball season has already shown Murray hitting at a higher level than last season, and he will be eligible for the 2018 MLB Draft if he chooses to pursue a baseball career. While it seems unlikely at the moment, it's certainly worth keeping an eye on.
Austin Kendall:
The only other quarterback we've seen during a game for the Sooners is Kendall. The departure of Trevor Knight and Cody Thomas in 2016 set him up as the backup to Mayfield during a year he would have had the chance to redshirt. He appeared in a few games, playing reasonably well in them. In 2017, with no option to redshirt Murray, it made complete sense to redshirt Austin Kendall. He enters 2018 as a redshirt sophomore.
While Murray seems on pace to be the starting quarterback come fall, Kendall is a very good quarterback. He is a good athlete and a smooth passer with good arm strength, and would fit into the "pro-style quarterback" description.
Tanner Mordecai:
Sooner fans should be excited to see Mordecai joining the team. TFB spoke with his father recently to get some perspective on their family and what Tanner brings to OU.
TFB With the Family spotlights @MicahMordecai, father of signed 2018 QB @t_mordecai, as he discusses their family and their progression to being #Sooners (via @TFB_Sooners) https://t.co/XgHVgtUXzI

— Ryan Lewis (@RyanLewis_TFB) January 11, 2018
He won't be on campus until summer, so there won't be an opportunity to see him in the spring game. However, Mordecai is a speedy quarterback and will be an excellent addition to the position group. It's probably safe to assume that the staff will try to make 2018 a redshirt year with two returning upperclassmen at the same spot, but he will be one to watch during his time in Norman.
Summary
Although the experience at the quarterback spot is low, there is a lot of talent and two players who have been patiently waiting on the sideline in Norman for two years. It would be insane to expect Baker Mayfield production out of any quarterback this year: he was an all-timer. The 2017 offense was on a historic level of greatness and will be hard to keep pace with. However, with Riley calling plays and the talent he is working with, Sooner fans should feel very comfortable with the quarterback spot in 2018.