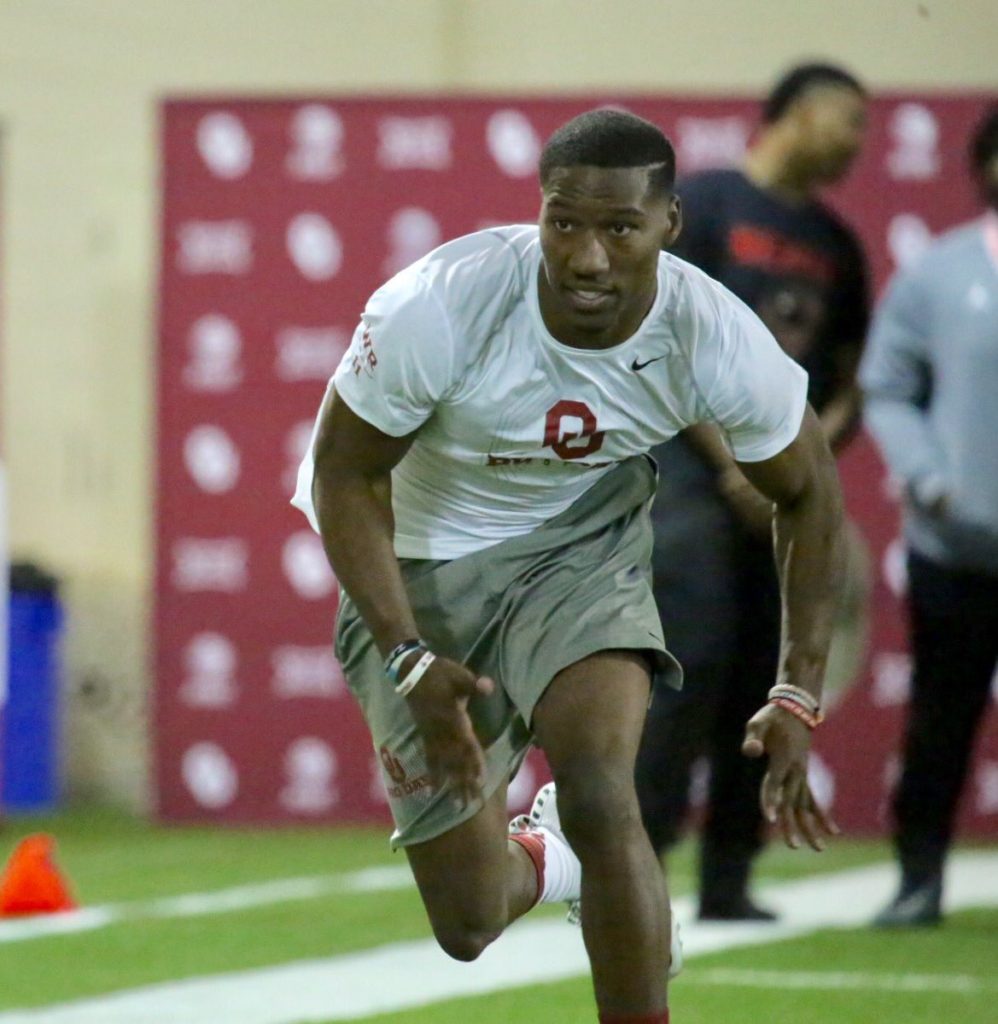 2017 OU Football Pro Day (UPDATED 3:18 PM)
Posted on: March 8, 2017
Image via OU Football Twitter account
Overview
Oklahoma football will host its annual Pro Day on Wednesday starting around 9 am (CDT). This is a chance for these guys to impress NFL scouts with hopes of taking the next step in their careers.
Below is a list of who will be participating today as supplied by Sooner Sports. Not everyone will take part in every single event – some will be content with their NFL combine numbers. For example, many would be beyond thrilled with 30 reps at bench press like Perine had, but all things considered he could try again and beat that, so who knows. As you can see from the list, several of the guys taking part in the day are former players – or, in one case, the brother of a former player – hoping to be noticed as well.
We'll be updating the list below as numbers are posted, so stay tuned.
Sooner Sports will have live coverage today (although it does require premium access). You can find that coverage here.
The ultimate job interview.

Watch OU's Pro Day live starting at 9am on https://t.co/XhOdfeJeYP.

Full coverage ➡ https://t.co/xRORfh82iV pic.twitter.com/h7hsxPuW2V

— Oklahoma Football (@OU_Football) March 8, 2017
OU's official Twitter and Instagram accounts will also post pictures and videos throughout the day.
Results
Top performers in each event highlighted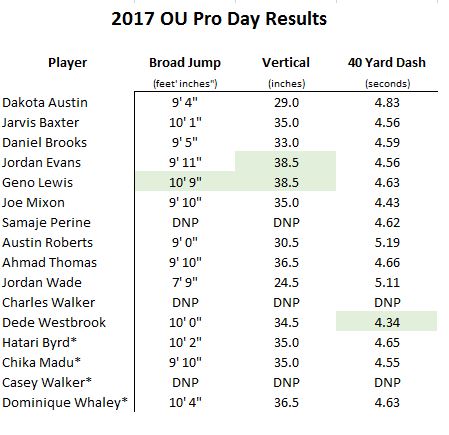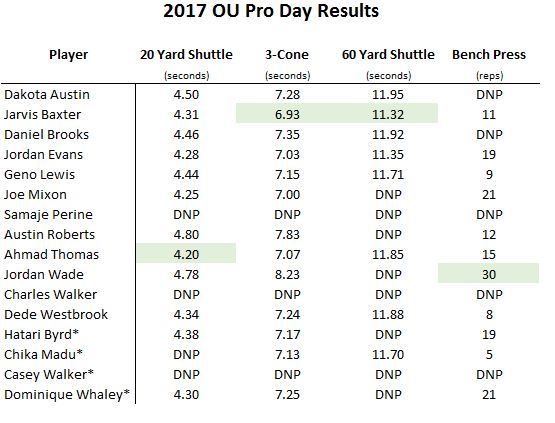 * Hatari Byrd is a former OU football player (2013-15)
* Chika Madu is the brother of former Sooner Mossis Madu
* Casey Walker is a former OU football player (2008-2012)
* Dominique Whaley is a former OU football player (2011-12)
NFL Combine Top Performers
I thought it would be helpful to compile the top performers at each position and event from the NFL combine this year to compare against the guys performing today.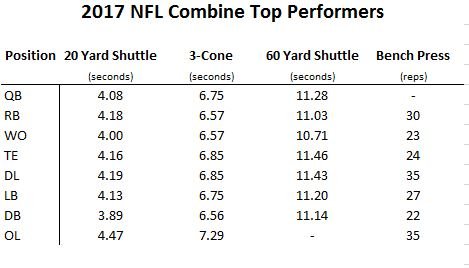 Recap
Couple of quick thoughts of things that stuck out from today's Pro Day.
I saw several places on twitter that all 32 NFL teams were represented today.
Jordan Evans
I'd be remiss to start with anyone but Jordan Evans. He had a monster day, putting up some excellent numbers. His vertical jump would have been first among all linebackers at the NFL combine. Only one linebacker had a faster 40 time (Michigan's Jabrill Peppers), and Evans has 20 pounds on Peppers. His shuttle times and 3-Cone time also match up very favorably with other linebackers at the combine. For a guy who didn't get an invite to the combine, he certainly did an excellent job letting his numbers speak for themselves. Of all the guys to participate today, you'd have to believe that Evans increased his paycheck the most.
Highlights of @jordanevans_26 from today's #Sooners Pro Day – Evans put on a showhttps://t.co/ZZ3aoUDZdQ

— Ryan Lewis (@RyanLewis_TFB) March 8, 2017
Joe Mixon
Joe Mixon was an obvious focus of the day for both fans and media. He had a good day overall. Neither of his jumps were eye-popping numbers, but his speed drills were excellent. His 40 was one of the highlights of the day, with a lot of buzz being generated from that. Mixon's reps on bench were also excellent.
Joe Mixon's 4.43 40.

Live stream/results ➡️ https://t.co/xRORfh82iV pic.twitter.com/idqnH7vx3o

— Oklahoma Football (@OU_Football) March 8, 2017
Highlights of @Joe_MainMixon from today's #Sooners Pro Day. I don't know if you've heard, but he's the real deal.https://t.co/UUtior5xR7

— Ryan Lewis (@RyanLewis_TFB) March 8, 2017
Dede Westbrook
After unexpectedly not performing in the NFL combine despite being on site, Dede Westbrook was hoping to put up some monster numbers today. Unfortunately, I'm not sure he did that. While his 40 time was fantastic (would have ranked 3rd among wideouts at the combine), his other events would have ranked middle-of-the-line among wideouts. Hopefully his meetings went well and teams love his film.
Highlights of @DedeTHEGreat11 from today's #Sooners Pro Day. Breaking: he's kinda fast. https://t.co/FpwaGlGLDY

— Ryan Lewis (@RyanLewis_TFB) March 8, 2017
Other thoughts
Samaje Perine participated in the 40 yard dash today and was able to improve his time. Charles Walker was expected to participate, but did not do so. Jordan Wade put up an eye-popping 30 reps at bench (which makes Perine doing it even more impressive).