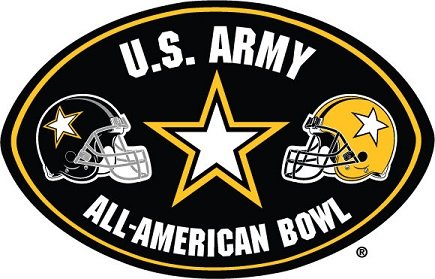 2014 US Army All-American Bowl | Recruit Watch (UPDATE 2:45 pm – Mixon Commits to OU)
Posted on: January 4, 2014
The 2014 US Army All-American Bowl airs live on NBC today at 12:00 pm CST. We will try to post updates in this thread as we watch the game. We will keep our eye on some of OU's recruiting targets who will be announcing their decisions during the game. OU recruits playing in today's game include:
Dwight Williams (LB) – Dwight will be announcing his decision during the game and most feel Oklahoma leads here.
Joe Mixon (RB) – Joe will be announcing his decision during the game. According to Joe he will choose between Oklahoma, UCLA and Wisconsin.
Natrell Curtis (OL) – The last time I spoke to Natrell he told me he had not decided whether he'd announce at the game or not. Either way Oklahoma appears to be the clear leader with Natrell.
Mark Andrews (WR) – Mark is an Oklahoma commit.
Jordan Sims (OL) – Jordan is a monster OL.  Like Oklahoma commit, Dwayne Orso, Jordan hails from Homewood, Alabama. Dwayne and Jordan are friends and there is still a possibility that Sims will take an official visit to Oklahoma. As far as we know Jordan will not be announcing today but he is being recruited by Oklahoma.
Nathan Starks (RB) – As far as we know Nathan will not be announcing today.
KD Cannon (WR) – KD is a Baylor commit but Oklahoma was the first school to offer him and was listed in his final 3 before he chose Baylor. Oklahoma coaches have a good relationship with KD. He hasn't given any indication that a flip is possible or that Oklahoma is even still pursuing him, but with the big Sugar Bowl win you've got to wonder if coach Norvell isn't back in the lab concocting some master plan to make one last pitch to Cannon.
Here is the player roster for the game: http://www.usarmyallamericanbowl.com/players/player-roster
UPDATE (9:34 am): I forgot to mention that Midwest City stud safety and OU 2015 offer, Will Sunderland is attending the U.S. Army All-American combine this week. I don't believe 2015 kids can play so the impression I got from him is he is there for the clinic. On a related note, I talk to Will pretty regularly and though it's still early I think OU is sitting in a good spot with him right now.
UPDATE: (2:16 pm): Sorry this took so long to update. Been wrapped up today. As most of you saw LB Dwight Williams is staying in California and will be attending UCLA.
UPDATE: (2:45 pm): Joe Mixon commits to the University of Oklahoma!