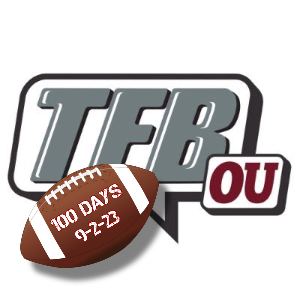 100 Days to Football Time in Oklahoma: #98 Hayden Bray
Posted on: May 27, 2023
Player Profile
Position: Defensive Lineman
Height: 6′ 4″
Weight: 277
Class: Redshirt Sophomore
Seasons at OU: 2
Hometown: Austin, TX
The Path to Norman
Hayden Bray played high school football in enemy country: Westlake High School in Austin, Texas. However, Bray grew up a Sooner fan. While in high school, he won two state championships. He had offers to several programs, but decided to join the Sooners as a preferred walk-on shortly before the 2021 signing day.
Stickin' to My Roots❤️🤍❤️#COMMITTED #BoomerSooner @CoachThibbs @LincolnRiley pic.twitter.com/GiyAqSOJA6

— Hayden Bray (@HaydenBray98) January 30, 2021
Career so Far
Bray took a redshirt season in 2021 and did not play, nor did he see any playing time in 2022.
Highlights
This Season
The Sooners will have a mixture of returning defensive linemen and newcomers to compete for playing time this fall. Bray will have his shot there; additionally, he has taken reps at tight end this spring in the face of an extremely thin TE room. In his third season on campus, Bray will work toward playing time for Oklahoma.