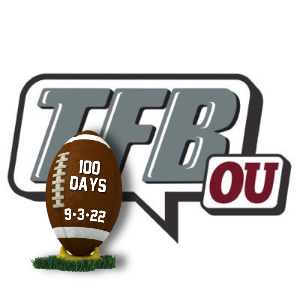 100 Days to Football Time in Oklahoma: #94 Isaiah Coe
Posted on: June 1, 2022
Player Profile
Position: Defensive Lineman
Height: 6'2″
Weight: 298
Class: Senior
Seasons at OU: 1
Hometown: Homewood, IL
The Path to Norman
Isaiah Coe started his career in the JUCO ranks, attending Iowa Western CC – once a teammate of former OU lineman Perrion Winfrey. The Sooners began their pursuit in earnest in the spring of 2020, when Coe was already one of the top-ranked JUCO prospects in the country. After a relatively short courting, the Sooners earned a commitment in the summer of 2020.
C⭕️mmitted📍#LincUp21 pic.twitter.com/BlFGWCs3eh

— Isaiah Coe 👿 (@chiefzay_) June 5, 2020
Career so Far
Coe came in and played immediately in 2021. He appeared in 12 games as a part of a defensive front that entered the season with high expectations but never quite seemed to reach the lofty heights suggested by their talent. Nevertheless, Coe was a promising part of that unit.
Stats
Year: 2021
Games Played: 12
Tackles: 9
TFL: 4.5
Sacks: 1
PBU: 1
Stats via Soonersports.com
Highlights
Isaiah Coe blocks the extra point and Pat Fields houses it for 2 points. 😮 pic.twitter.com/z7oHpEIAMV

— 𝕆𝕂𝕃𝔸ℍ𝕆𝕄𝔸-𝕍𝕊-𝕋ℍ𝔼 𝕎𝕆ℝ𝕃𝔻 (@soonergridiron) September 18, 2021
This Season
Isaiah Coe will continue contributing in the interior line this fall, but with a new coaching staff in place. The big man (the second-largest defensive player on the roster) will have plenty of competition at defensive tackle. Jalen Redmond and newcomer Jeffery Johnson are expected to start, with Coe, Josh Ellison, Jordan Kelley, and Kori Roberson battling for playing time. With newcomer Todd Bates coaching the unit, Sooner fans have reason to be extremely excited to see the direction that Coe and the rest of the defensive tackles take.