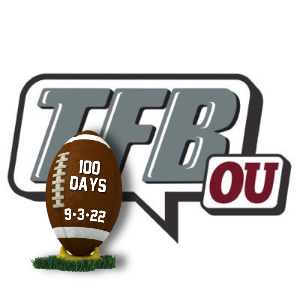 100 Days to Football Time in Oklahoma: #92 Kori Roberson
Posted on: June 3, 2022
Player Profile
Position: Defensive Lineman
Height: 6'5″
Weight: 283
Class: Redshirt Junior
Seasons at OU: 3
Hometown: Houston, TX
The Path to Norman
Oklahoma was Kori Roberson's first offer from a Power Five program; he responded by being one of the earliest commitments in the Sooners' 2019 class. Following a Junior Day visit in February 2018, he decided to pledge to OU and never looked back, despite offers from Georgia, LSU, and Alabama.
@CoachThibbs @BrandonTFB pic.twitter.com/H2wmIWMVwd

— KOJO9️⃣2️⃣⁉️ (@lil_kojo9) February 19, 2018
Career so Far
Early word on Roberson indicated how well he was moving and that he could be a big impact player; when his first season came, he played early. Appearing in the first two games of the year, along with Texas Tech and Kansas, Kori was one of several players to hit their four game limit while still using a redshirt season. With several veterans up front to take snaps, this was a perfect situation; Roberson gained experience and got to keep a year of eligibility.
2020 saw Roberson take on more responsibility. He played in 10 games for the Sooners, providing depth on an excellent defensive line.
In 2021, Roberson was part of a defensive line group that entered the year with a lot of talent and big expectations. The season's output did not align with expectations, which many believe was a result of defensive strategy. Roberson, however, continued to increase his experience as a Sooner.
Stats
Years: 2021 | 2020 | 2019 | Career
Games Played: 12 | 10 | 4 | 26
Tackles: 17 | 11 | 1 | 29
TFL: 2.5 | 3.5 | 1 | 7
Sacks: 0.5 | 1 | 0 | 1.5
PBU: 0 | 1 | 0 | 1
Stats via Soonersports.com
Highlights
Kori Roberson and DaShaun White stuff the screen on 2nd down. pic.twitter.com/AyrKBfC3qJ

— 𝕆𝕂𝕃𝔸ℍ𝕆𝕄𝔸-𝕍𝕊-𝕋ℍ𝔼 𝕎𝕆ℝ𝕃𝔻 (@soonergridiron) September 26, 2021
This Season
Roberson, down 15 pounds from a year ago, is now a veteran of the defensive line for the Sooners. He will continue to work at defensive tackle, where there will be plenty of competition. Jalen Redmond and newcomer Jeffery Johnson are expected to start, with Roberson, Josh Ellison, Jordan Kelley, and Isaiah Coe battling for playing time. With newcomer Todd Bates coaching the unit, Roberson will have the chance to help improve the defensive line in 2022.