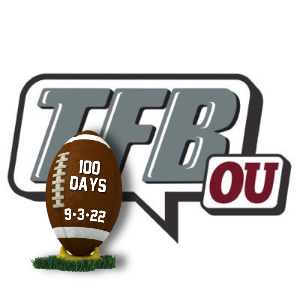 100 Days to Football Time in Oklahoma: #89 Damon Smith
Posted on: June 6, 2022
Player Profile
Position: Wide Receiver
Height: 6'1″
Weight: 195
Class: Redshirt Junior
Seasons at OU: 3
Hometown: Keller, TX
The Path to Norman
Damon Smith played high school football in Keller, Texas. In the spring of 2019, he decided to play his college ball in Norman.
Congratulations to Damon Smith who will be continuing his football career at the University of Oklahoma. @KHSIndianNation @KHSBooster @KISDAthletics pic.twitter.com/4dDAx4m65U

— Keller Football (@kellerindiansfb) February 6, 2019
Career so Far
Smith took a redshirt season in 2019, but saw action in two games. In 2020, Smith earned snaps in three games and made his first college reception. He was a regular presence for the Sooners offense in 2021, playing in eight games.
Stats
Years: 2021 | 2020 | 2019 | Career
Games Played: 2 | 3 | 8 | 13
Receptions: 0 | 2 | 1 | 3
Receiving Yards: 0 | 7 | 0 | 7
Stats via Soonersports.com
Highlights
This Season
The 2022 offense will be under the leadership of new offensive coordinator Jeff Lebby. He will be working to bring together a receiver unit that has seen considerable change since last season and has not been at its expected level for several seasons. Smith will continue to contribute in that unit in his fourth season on campus.