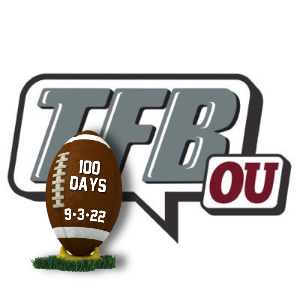 100 Days to Football Time in Oklahoma: #88 Jordan Kelley
Posted on: June 7, 2022
Player Profile
Position: Defensive Lineman
Height: 6'4″
Weight: 286
Class: Redshirt Senior
Seasons at OU: 4
Hometown: Tulsa, OK
The Path to Norman
Jordan Kelley and the Sooners had a long relationship. Hailing from Tulsa Union (OK), the same high school that produced recent Sooners like Tre Brown and Patrick Fields, Jordan received an OU offer at his Junior Day in February, 2017. As an OU fan growing up, it was hard to beat out Oklahoma, and he committed a month later.
⭕️🙌🏽 pic.twitter.com/0l1vyqSghe

— Jordan Kelley (@OGkelley) March 26, 2017
Career so Far
In Kelley's first year on campus, he was able to take advantage of the new redshirt rule; he appeared in two games for OU to gain experience but enjoyed a redshirt season.
Unfortunately, Kelley was injured the following spring and missed most of the 2019 season. He was able to play in the CFP Semifinal as his lone action for the season.
In 2020, Kelley saw a significant uptick in his playing time. He saw action in 10 games to provide depth on the defensive line.
2021 was similar to the year before. The big man played in most games of the season as a consistent presence on the defensive line behind recent NFL draftees Isaiah Thomas and Perrion Winfrey.
Stats
Years: 2021 | 2020 | 2019 | 2018 | Career
Games Played: 11 | 10 | 1 | 2 | 24
Tackles: 6 | 9 | 0 | 2 | 17
TFL: 1 | 2 | 0 | 0 | 3
Sacks: 0 | 0.5 | 0 | 0 | 0.5
FF: 1 | 0 | 0 | 0 | 1
Stats via Soonersports.com
This Season
2022 looks like it could be a step forward for Jordan Kelley. With Thomas and Winfrey in the NFL, there is room for other linemen to step up. Kelley will be battling with Jeffery Johnson, Jalen Redmond, and several others to be the starters under new line coach Todd Bates. In what will be his fifth season on campus, Kelley has all the tools for a big season.