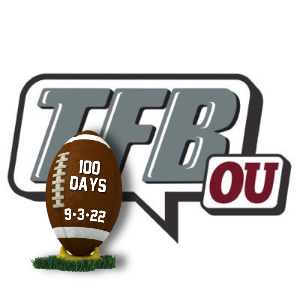 100 Days to Football Time in Oklahoma: #87 Jason Llewellyn
Posted on: June 8, 2022
Player Profile
Position: Tight End / Half Back
Height: 6'5″
Weight: 260
Class: Freshman
Seasons at OU: 0
Hometown: Aledo, TX
The Path to Norman
Jason Llewellyn played high school football in Aledo, TX. He was part of a state championship team in 2020 and started to see offers roll in. Alabama, Michigan, and Texas were among the schools to offer the young man. He committed to the Sooners roughly a year before his signing day.
COMMITTED! #BoomerSooner pic.twitter.com/kIQI4BraT3

— Jason Llewellyn (@Jasonllew89) February 19, 2021

Despite staffing changes and plenty of new offers, Llewellyn stayed locked in for OU the entire time. He was part of a fantastic class for Coach Finley, along with Kaden Helms and Daniel Parker.
Highlights
This Season
The 2022 tight end room is a mixture of players in their final year of college ball (Willis and Parker) and those in the first year of their journey (Helms and Llewellyn). Llewellyn will start to gain experience at the college level this year, where his ability to both block and catch will be a big boost to the offense, as he begins what looks to be a promising career in Norman.