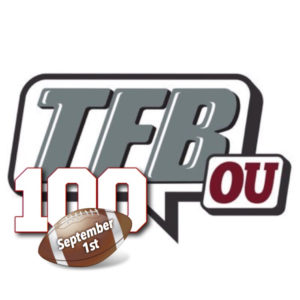 100 Days to Football Time in Oklahoma: #84 Lee Morris
Posted on: June 9, 2019
The Path to Norman
Lee Morris walked on for the Sooners, earned a scholarship, and won a national championship.
Sooner fans are hoping that statement is doubly true before long. Morris' father, Lee Morris Sr., was a walk-on for OU back in the mid 1980's. His son, Lee Morris Jr., played at Allen High School in Texas with Kyler Murray. Despite having several D-1 scholarship offers, Morris Jr. decided he wanted to follow his father's legacy and walk on at OU as well. For more on his journey, check out this article: NewsOK: Lee Morris Walk On
Career so Far
Morris played in 12 games in 2016, almost exclusively on special teams. In 2017, he saw action in 14 games. He was on the receiving end of the first touchdown pass for his old high school teammate Murray.
2018 saw the Allen product really shine. The season opener saw Morris block a punt that Curtis Bolton returned for a touchdown, along with catching a 65 yard touchdown pass. Following the game, Morris had a dream come true.
The former walk-on had such a great season that he was named a Burlsworth Trophy semifinalist. Lee Morris scored eight touchdowns on 21 catches over the season, a truly absurd touchdown rate. His career stats hold the highest touchdowns per reception ratio at OU this century.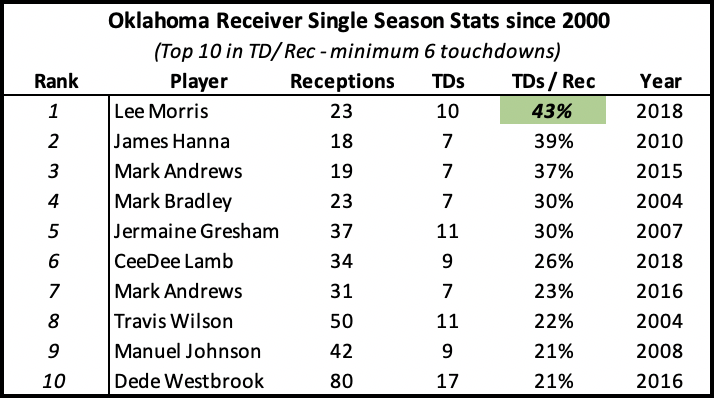 Current Profile
Position: Wide Receiver
Height: 6'2"
Weight: 211
Year: Redshirt Senior
Stats

Highlights
2019 Season
Last year's Murray to Morris connection was something special. This year, Morris is one of the veteran receivers on the offense and a surefire touchdown option for the Sooners. Look for Morris to have another big year.