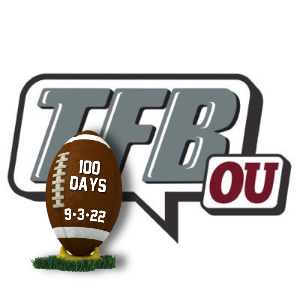 100 Days to Football Time in Oklahoma: #84 Carsten Groos
Posted on: June 11, 2022
Player Profile
Position: Tight End / Half Back
Height: 6'2″
Weight: 240
Class: Redshirt Sophomore
Seasons at OU: 2
Hometown: Austin, TX
The Path to Norman
Carsten Groos comes to Oklahoma via Austin, Texas. Groos played football at Anderson High School, where he played quarterback. He received a scholarship offer from Columbia, but decided to walk on with the Sooners to play football.
Honored to be continuing my athletic and academic career at OU! pic.twitter.com/UJVcFMN14Y

— Carsten Groos (@CarstenGroos) February 4, 2020
Career so Far
Groos took a redshirt season in 2020 and did not play.
In 2021, he made his first game appearance, making a catch against Western Carolina.
Stats
Year: 2021
Games Played: 1
Receptions: 1
Receiving Yards: 8
Stats via Soonersports.com
Highlights
This Season
Groos has experience at several offensive positions. With an entirely new offense in 2022, playing time will be as open as it has been in recent years. Carsten Groos will look to earn playing time in 2022 during this third season in Norman.