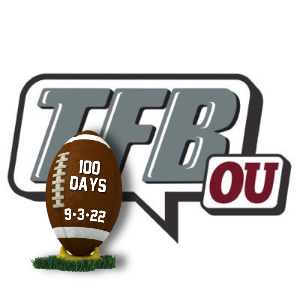 100 Days to Football Time in Oklahoma: #83 Major Melson
Posted on: June 12, 2022
Player Profile
Position: Wide Receiver
Height: 5'9″
Weight: 180
Class: Redshirt Sophomore
Seasons at OU: 2
Hometown: Mansfield, TX
The Path to Norman
Major Melson comes from a Sooner family. His father, Chris Melson, played for OU in the late 80's and early 90's. Chris Melson recently stepped down as the coach at Mansfield Legacy (TX), where he had coached Major. Major walked on with the Sooners before the 2020 season.
Career so Far
Melson took a redshirt season in 2020 and has not yet seen game time.
Highlights
This Season
Melson is listed at receiver and could earn minutes there in 2022 in a position group with plenty of questions. However, he also looks ready to contribute at holder this season; Melson and Josh Plaster have both worked at the position this spring. The Sooners legacy appears ready to earn game snaps heading into 2022.