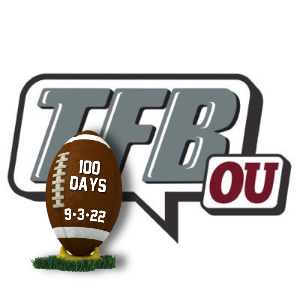 100 Days to Football Time in Oklahoma: #81 Trevon West
Posted on: June 14, 2022
Player Profile
Position: Wide Receiver
Height: 6'0″
Weight: 173
Class: Junior
Seasons at OU: 2
Hometown: Arlington, TX
The Path to Norman
Trevon West, a Texas High School product, wasted little time in securing his place at Oklahoma. He was offered January, 2019; he committed less than a month later, roughly a year before his signing day. TFB's Super K got to know Trevon West shortly after his commitment; check it out!
Career so Far
Trevon West began playing for the Sooners in his first year on campus. He made four receptions in the season opener and played in seven additional games throughout the season.
Following his freshman year, West temporarily entered the transfer portal, but rejoined OU before the next season.
West's sophomore campaign saw him carry a larger role. He played in all 13 games, both at receiver and on special teams. Fans noticed his breakaway speed in several big plays throughout the year, the most enjoyable of which may have been a tackle on special teams (see below).
Stats
Years: 2021 | 2020 | Career
Games Played: 13 | 8 | 21
Receptions: 4 | 4 | 8
Receiving Yards: 45 | 59 | 104
Carries: 2 | 0 | 2
Rush Yards: 78 | 0 | 78
Stats via Soonersports.com
Highlights
Trevon West gets loose for a big gain. pic.twitter.com/BovtYB0iwR

— 𝕆𝕂𝕃𝔸ℍ𝕆𝕄𝔸-𝕍𝕊-𝕋ℍ𝔼 𝕎𝕆ℝ𝕃𝔻 (@soonergridiron) October 17, 2021
Trevon West shot out of a cannon. pic.twitter.com/R3wQzEIsvC

— 𝕆𝕂𝕃𝔸ℍ𝕆𝕄𝔸-𝕍𝕊-𝕋ℍ𝔼 𝕎𝕆ℝ𝕃𝔻 (@soonergridiron) October 23, 2021
OMG what a blast by Turk.

Trevon West with the coverage pressure and Justin Broiles in the right place at the right time.#OUDNA | #BoomerSooner pic.twitter.com/Sot82ItxU0

— 𝕆𝕂𝕃𝔸ℍ𝕆𝕄𝔸-𝕍𝕊-𝕋ℍ𝔼 𝕎𝕆ℝ𝕃𝔻 (@soonergridiron) November 28, 2021
This Season
The 2022 OU receiver room has fantastic talent, but serious depth questions. Theo Wease, Marvin Mims, and Jalil Farooq are the current projected starters. West, Drake Stoops, and Brian Darby are in a group of receivers who will all be earning big minutes. Over 20 games of experience will give West a big boost. Trevon West has the speed and experience for a big season in 2022.