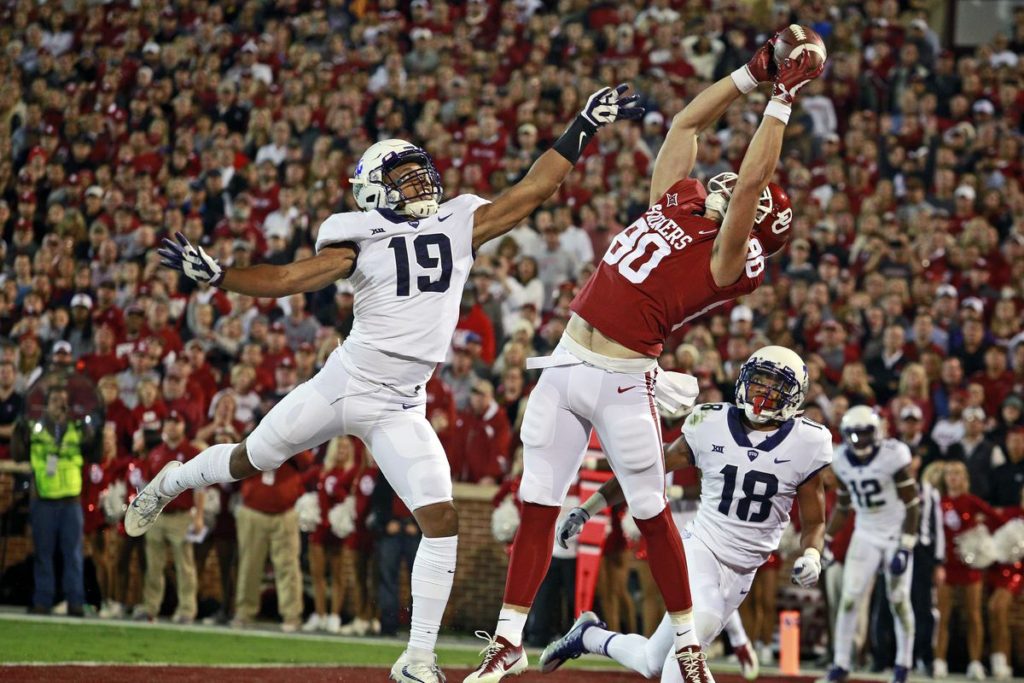 100 Days to Football Time in Oklahoma: #80 Grant Calcaterra
Posted on: June 13, 2018
Image via Brett Deering
Stats via SoonerSports.com
The Path to Norman
Calcaterra was a highly ranked player out of high school. Ranked a top 5-10 tight end by recruiting services, he was an in demand player. Despite teams like Florida, Nebraska, Texas A&M, Notre Dame, USC, and others vying for the young man's attention, Calc committed almost a full year before signing day and never wavered.
Career So Far
Fans had the opportunity to see Calc at the 2017 spring game after he enrolled early and he did not disappoint. Comparisons to Mark Andrews immediately flew around due to their similar size, route running, and play – any comparison to the reigning Mackey Award winner are good to hear. When the season rolled around, Calc played in all 14 games, making big catches in several of them. He was named All-Big 12 Honorable Mention for the season.
Current Profile
Position: Grant Calcaterra
Height: 6'4"
Weight: 224
Year: Sophomore
Stats

Highlights
2018 Season
Grant Calcaterra is a big, quick tight end/ wide receiver. He will be the main player in that position this year with the departure of Andrews and will fit in well. Calcaterra played in every game in 2017, making catches in five of them. He is very similar in size and play to Andrews and fits in well to the system. However, it's not just his size that makes him special; Calcaterra has some excellent hands. Calc was on the receiving end of possibly the best pass and catch from Baker Mayfield in 2017 (above). Look for him to continue to build on his freshman campaign and become a guy that opposing defenses have to scheme for.