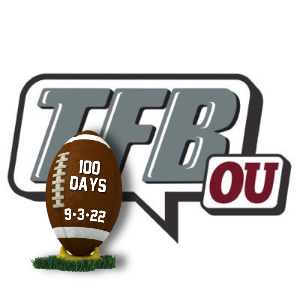 100 Days to Football Time in Oklahoma: #80 Daniel Parker
Posted on: June 15, 2022
Player Profile
Position: Tight End / Half Back
Height: 6'2″
Weight: 239
Class: Senior
Seasons at OU: 0
Hometown: Kansas City, MO
The Path to Norman
Daniel Parker comes to OU after several years in the college landscape. Originally out of Kansas City, Parker joined Missouri out of high school, where he played for four seasons. During the wild period shortly following the 2021 regular season, he entered the transfer portal, joining the Sooners just a few short weeks later.
#BoomerSooner 🔴⚪️ pic.twitter.com/E5NkYWbIGd

— Dp💙 (@DanielParkerJr) December 23, 2021
Career so Far
Parker committed to the Tigers as a defensive end. However, he converted to tight end during his freshman season and quickly excelled in the new position. He was part of the 2018 All-SEC Freshman Team as a tight end. Over his four seasons at Missuori, Parker continued to contribute at tight end, becoming known for his blocking prowess.
Stats
Years: 2021 | 2020 | 2019 | 2018 | Career
Games Played: 11 | 7 | 12 | 12 | 42
Receptions: 12 | 8 | 15 | 6 | 41
Receiving Yards: 97 | 37 | 140 | 63 | 337
Receiving TD: 3 | 0 | 0 | 1 | 4
Stats via Soonersports.com
Highlights
Daniel Parker blocking everyone pic.twitter.com/oYD1vKjf3R

— Represent Mizzou (@RepresentMizzou) December 5, 2020
GAME-WINNER: #Mizzou QB Connor Bazelak finds Daniel Parker Jr. for the two-point conversion in OT! UNREAL celebration! pic.twitter.com/GWuBh2XpQt

— Andrew Kauffman (@A_Kauff) November 21, 2021
This Season
Daniel Parker comes to the Sooners as one of only two tight ends with college experience on the roster. Brayden Willis is likely to be the first option at tight end, but Parker looks likely to play often, with his blocking ability adding a big asset to the OU offense. In what is likely to be his only season in Norman, Sooner fans are expecting to see lots of the newcomer at tight end.