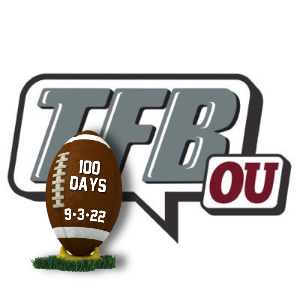 100 Days to Football Time in Oklahoma: #78 Marcus Hicks
Posted on: June 17, 2022
Player Profile
Position: Offensive Lineman
Height: 6'5″
Weight: 297
Class: Redshirt Junior
Seasons at OU: 3
Hometown: Wichita, KS
The Path to Norman
Marcus Hicks was an OU target from day one. The Sooners were the first to offer the Wichita, Kansas product. The son of Kelvin Hicks, a former college ball player, 20-year military man (huge thanks for this service), and deputy sheriff, discipline and football were present throughout Marcus' life. The younger Hicks had offers from plenty of big programs (Florida, Michigan, Ohio State, and Texas to name a few) to play football; he was also a top athlete in wrestling in high school, winning the state heavyweight title his senior year. After several visits, Marcus committed to Oklahoma in the summer of 2018 and became a fan-favorite recruit.
Career so Far
Hicks was banged up on and off in 2019. He did not play and took a redshirt season. Unfortunately, 2020 did not treat the big man any better; he injured his Achilles shortly before games started and was forced to sit out the season.
In 2021, Hicks was healthy for the first time since arriving in Norman; additionally, he made a position switch from the defensive line to the offensive line. Hicks earned snaps in the season opener against Western Carolina.
Stats
Year: 2021
Games Played: 1
Stats via Soonersports.com
Highlights
This Season
Hicks has the chance for a new start in 2022. Currently working at offensive tackle, it will be interesting to see if he gets another look on the defensive side of the ball under Coach Venables. There will be plenty of competition on both sides of the line, but Hicks has the athleticism to earn snaps for the Sooners in 2022.