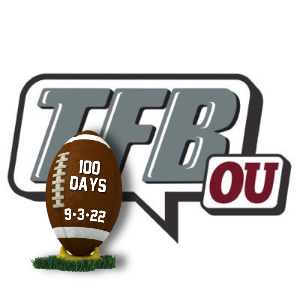 100 Days to Football Time in Oklahoma: #77 Jeffery Johnson
Posted on: June 18, 2022
Player Profile
Position: Defensive Lineman
Height: 6'2″
Weight: 302
Class: Senior
Seasons at OU: 0
Hometown: Brookhaven, MS
The Path to Norman
Jeffery Johnson played high school football in Mississippi. He was a four-state prospect on the defensive line, earning offers from big programs like Alabama, Florida, LSU, and others. However, a medical diagnosis of rhabdomyolysis (which turned out to be a false positive) shortly before his senior season dampered interest from many of those schools. Johnson ended up at Tulane out of high school.
After four years starting for the Green Wave and graduating from Tulane, Johnson entered the transfer portal. Plenty of big programs came calling again, but OU landed the big man.
Officially a Sooner!! Thank you @CoachToddBates @CoachTedRoof @CoachVenables for allowing me to become apart of your family, and what it means to be a champion! #SoonerBoomer pic.twitter.com/k8Z7xOsOYf

— 🔱 Jeffery Johnson 🔱 (@Jeffery5621) January 14, 2022
Career so Far
Johnson made an imapct during his first season with Tulane, playing in all 13 games and starting in 12 at nose tackle. He didn't slow down from there, as he regularly started for the next three seasons.
His best season was perhaps his most recent, when he recorded career highs in tackles and landed on the radar of several programs. Johnson also played against the Sooners during the season, when he notched six tackles and a TFL.
Stats
Years: 2021 | 2020 | 2019 | 2018 | Career
Games Played: 12 | 12 | 12 | 13 | 49
Tackles: 44 | 33 | 29 | 30 | 136
TFL: 4 | 6 | 3 | 1 | 14
Sacks: 1.5 | 3.5 | 2.5 | 0.5 | 8
PBU: 0 | 0 | 0 | 1 | 1
FR: 0 | 2 | 1 | 0 | 3
Stats via Soonersports.com
This Season
Johnson has one season in Norman to make his mark and all the tools to do so. The Sooners lost several key pieces of their defensive front over the offseason, leaving room for others to step up. Johnson's experience and talent are expected to make him a starter in the interior during 2022. In a large group of newcomers to this Oklahoma squad, Jeffery Johnson is one of the ones drawing the most excitement from Sooner fans.