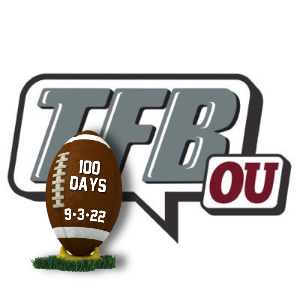 100 Days to Football Time in Oklahoma: #75 Cullen Montogmery
Posted on: June 20, 2022
Player Profile
Position: Offensive Lineman
Height: 6'4″
Weight: 352
Class: Redshirt Freshman
Seasons at OU: 1
Hometown: Pearland, TX
The Path to Norman
Cullen Montgomery played high school football in Texas. OU was one of his first offers way back in January, 2019. Montgomery made multiple visits to Norman, while major programs including Alabama, Ohio State, and Oregon all offered the big man. Roughly a year after his offer, Cullen committed to the Sooners as one of the first offensive commits in the 2021 class.
1000% Committed
This one for you dad, watch over me.#BOOMERSOONER‼️
Please respect my decision. pic.twitter.com/ykTTFaID4r

— Cullen. (@_manchild99) January 20, 2020
Career so Far
Montgomery took a redshirt season in 2021 and did not play.
Highlights
This Season
The offensive line has a lot of players vying for minutes this season. While the starters seem fairly settled, plenty of big men will be fighting for snaps after them. It may end up being another year before Montgomery becomes a regular on the field. The expected starters are all upperclassmen, which will leave openings next seasons. Montgomery will look to continue developing this season and be ready when his number is called in the future.