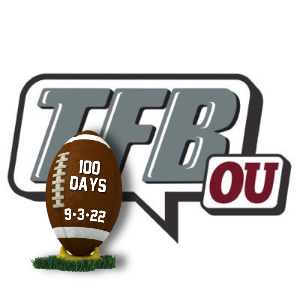 100 Days to Football Time in Oklahoma: #73 Andrew Raym
Posted on: June 22, 2022
Player Profile
Position: Offensive Lineman
Height: 6'4″
Weight: 307
Class: Junior
Seasons at OU: 2
Hometown: Broken Arrow, OK
The Path to Norman
Way, way back in April, 2017, OU was the first D1 program to offer in-state lineman Andrew Raym. Raym attended Broken Arrow High School in the Tulsa area, roughly a two hour drive from Norman. He was a top 100 recruit in the country, with an impressive offer sheet of the who's who of college football. Andrew committed to the Sooners in the fall of 2017, but decommitted the following spring. He kept receiving offers from major programs, but OU was always in the mix. Around a year later, his OUDNA couldn't be hidden.
At the end of the day, I couldn't get rid of this #OUDNA ‼️‼️ 🎥: @OU247 @JasonSwanny pic.twitter.com/Mu0WUSZHKA

— Andrew Raym7️⃣3️⃣ (@andrew_raymBAHS) July 10, 2019
TFB saw Raym in person to get a better impression of the talented lineman and offer thoughts on his skillset, which you can find here:
https://thefootballbrainiacs.com/open-post-wednesday-october-31st
Career so Far
Despite a starting five with a lot of experience on the offensive line, Raym saw action in nine of the 11 games his freshman season. The lineman showed potential for what snaps could come down the line.
In 2021, Raym looked ready to see even more action at the center spot. Unfortunately, the big man was banged up on and off throughotu the season, trading off the center spot with Robert Congel.
Stats
Years: 2021 | 2020 | Career
Games Played: 12 | 9 | 21
Stats via Soonersports.com
Highlights
world, meet Andrew Raym pic.twitter.com/ha7EaZuiT6

— Kegan Reneau (@KeganReneau) September 19, 2021
This Season
The center spot will be a tough battle in 2022. Both Congel and Raym are back to compete for the starting job, both bringing game experience. Either could win the starting job to begin the season, but even that could change as the year progresses. Additionally, both are talented enough to work at guard for the Sooners. Whether he wins the starting center job for game one or not, look to see Andrew Raym on the field frequently in 2022.