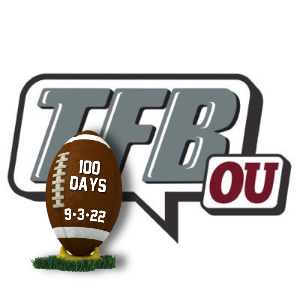 100 Days to Football Time in Oklahoma: #72 McKade Mettauer
Posted on: June 23, 2022
Player Profile
Position: Offensive Lineman
Height: 6'4″
Weight: 303
Class: Redshirt Junior
Seasons at OU: 0
Hometown: The Woodlands, TX
The Path to Norman
McKade Mettauer, out of Texas, started his college football career at Cal. A member of the 2019 class, he started 28 straight games at right guard for Cal, playing in all 29 Golden Bears games over his three seasons. At the end of the 2021 season, Mettauer entered the transfer portal. One call with Coach Bedenbaugh was all it took to bring the big man to Norman.
Perhaps you were born for such a time as this. Esther 4:14 pic.twitter.com/XFtorKXmwL

— McKade Mettauer 🟥⬜️ (@Mckade64) December 27, 2021
Career so Far
Mettauer took over the starting job at right guard in his second game on campus at Cal and never looked back. The lineman earned the Clint Evans Award, Cal's award for the team's most intense freshman competitor.
In his second season, a very short one due to game cancellations, he again started in every game at right guard and earned PFF honorable mention All-Pac-12 distinction.
2021 was another step forward for the guard, as he earned a PFF All-Pac-12 second team nod and honorable mention from the Pac-12 Coaches.
Stats
Years: 2021 | 2020 | 2019 | Career
Games Played: 12 | 4 | 13 | 29
Stats via Soonersports.com
This Season
Mettauer was not brought in to be a backup on the line, and nothing is indicating he will be. Despite experience at right guard throughout his career, he looks set to start at left guard opposite Chris Murray at right guard. Not only does he look likely to start, but TFB has routinely heard that Mettauer has been a leader for the offensive line group and is an extremely hard worker. Sooner fans should be excited to see McKade Mettauer make an immediate impact at guard for OU in 2022.