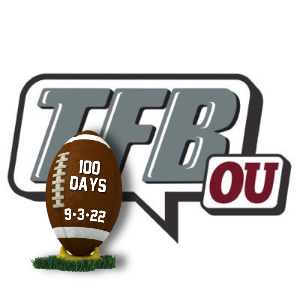 100 Days to Football Time in Oklahoma: #71 Anton Harrison
Posted on: June 24, 2022
Player Profile
Position: Offensive Lineman
Height: 6'6″
Weight: 309
Class: Junior
Seasons at OU: 2
Hometown: Washington, DC
The Path to Norman
Anton Harrison was a highly-ranked recruit out of Washington, DC. He had offers from the likes of Florida State, Michigan, and Ohio State. However, a visit to Norman in the fall of 2019 was enough to secure his commitment just a few short days later.
120% Committed #BoomerSooner #OUDNA pic.twitter.com/mHlOEqPPMX

— Anton Harrison ₇₁ (@Ayee_Tonn) September 3, 2019
Harrison joined Nate Anderson, Noah Nelson, Aaryn Parks, and Andrew Raym in rounding out a very hihgly-rated 2020 offensive line class for the Sooners.
Career so Far
Harrison entered 2020 listed as the starting left tackle on the released depth chart. Unfortunately, he was out for the season opener. Much to the chagrin of many a Sooner fan, he never did regain his starting role. Despite this, Harrison played regularly in most games of the 2020 season and, while continuing to learn as a freshman, showed that he had all the tools to be a big time tackle for OU.
In 2021, Harrison took over the starting job at left tackle. He played in every game and continued to grow throughout the season.
Stats
Years: 2021 | 2020 | Career
Games Played: 13 | 9 | 22
Stats via Soonersports.com
This Season
Harrison will once again be the starter at left tackle this season. The offensive line group, which brings back plenty of talent and experience, will have a fresh start in 2022 in a new offense and strength coach. An off-season under returning Coach Schmidt will serve the entire position group well; TFB has already heard about Harrison making strides. The offensive line group will be one of the most closely watched in 2022, and Harrison seems ready to keep doing his part to push it forward.