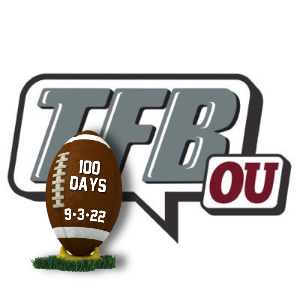 100 Days to Football Time in Oklahoma: #44 Kelvin Gilliam
Posted on: July 21, 2022
Player Profile
Position: Defensive Lineman
Height: 6'3″
Weight: 293
Class: Redshirt Freshman
Seasons at OU: 1
Hometown: Richmond, VA
The Path to Norman
Kelvin Gilliam, out of Virginia, was offered by the Sooners in February of 2020, roughly a year before signing day 2021. TFB's own Super K stopped by to see him at the time, commenting that Gilliam had been communicating with the entire staff. After a virtual visit in May, OU was in a good spot. Gilliam silently committed in July, followed by a public commitment in August.

TFB's Charlie had a great conversation with Gilliam a few months after his commitment; check it out!
Career so Far
Gilliam earned time his first year on campus, playing in the max four games allowed while still redshirting. He made a handful of tackles in his time on the field.
Stats
Year: 2021
Games Played: 4
Tackles: 2
Stats via Soonersports.com
Highlights
This Season
The defensive line could be one of the most-changed position groups as a result of the coaching changes in Norman. Gilliam has worked at defensive end and tackle over the offseason. Both spots are extremely crowded this year; it might take one more season for Gilliam to be a regular contributor, but look for his playing time to increase this year as he continues to grow.