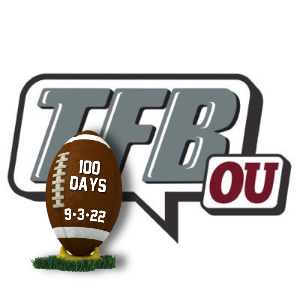 100 Days to Football Time in Oklahoma: #43 Ryan Peoples
Posted on: July 22, 2022
Player Profile
Position: Defensive Back
Height: 5'11"
Weight: 187
Class: Redshirt Senior
Seasons at OU: 3
Hometown: Norman, OK
The Path to Norman
Ryan Peoples is no stranger to Norman. After sitting out a year due to transfer rules, he was a key part of Norman North's playoff run the next season, earning The Oklahoman's Big All-City Offensive Player of the Year honors. He started at quarterback during high school ball. Although Peoples originally signed with Northeastern Oklahoma A&M, he walked on with the Sooners. Norman North has produced recent Sooner walk-ons like Nick Basquine and Drake Stoops. For more on his time at North, check out this article by the Oklahoman.
https://www.oklahoman.com/story/sports/columns/2018/01/08/big-all-city-football-scout-team-work-pays-off-for-norman-norths-ryan-peoples/60550815007/
Career so Far
Peoples took a redshirt season in 2019. In 2020, he saw action in four games. Unfortunately, he sustained an injury before the 2021 season and missed the entire year.
Stats
Years: 2021 | 2020 | 2019 | Career
Games Played: 0 | 4 | 0 | 4
Stats via Soonersports.com
Highlights
This Season
Peoples switched to the secondary to play with the Sooners. There is lots of competition at corner, with guys like Woodi Washington, Kendall Dennis, D.J. Graham, Kani Walker, Jaden Davis, and Josh Eaton all legit options to receive substantial playing time. Ryan Peoples will continue to push for snaps this year in his last season in Norman.