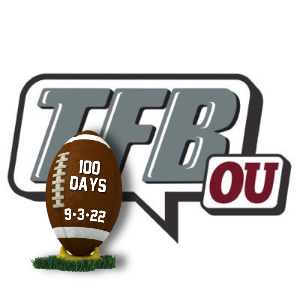 100 Days to Football Time in Oklahoma: #40 Ethan Downs
Posted on: July 25, 2022
Player Profile
Position: Defensive Lineman
Height: 6'4″
Weight: 263
Class: Sophomore
Seasons at OU: 1
Hometown: Weatherford, OK
The Path to Norman
Ethan Downs played high school ball in Weatherford, Oklahoma. He played all over the field on both the offensive and defensive sides of the ball. A top 200 recruit, Downs' offer list included LSU, Penn State, Texas, and Texas A&M. However, he became the first defensive commit in the 2021 OU class in the fall of 2019.
I have been offered an opportunity that very few people receive, and it has been my dream ever since I was 7 years old to play football for the University of Oklahoma! Thank you to @LincolnRiley @CoachGrinch @CoachThibbs @CoachBOdom BOOMER! pic.twitter.com/12OJaBzSAs

— Ethan Downs (@ethandowns40) October 10, 2019
Career so Far
Word was extremely high on Downs before his first season even began. He proved why by playing in all 13 games of his freshman year. On a line full of upperclassmen, Downs was an energetic standout throughout the season and a Sooner fan favorite.
Stats
Year: 2021
Games Played: 13
Tackles: 14
TFL: 3
Sacks: 0.5
FF: 1
Stats via Soonersports.com
Highlights
Ethan Downs. That's it. That's the tweet.#OUDNA | #SpeedD pic.twitter.com/C02czYNHuS

— 𝕆𝕂𝕃𝔸ℍ𝕆𝕄𝔸-𝕍𝕊-𝕋ℍ𝔼 𝕎𝕆ℝ𝕃𝔻 (@soonergridiron) September 13, 2021
This was one hell of an effort by Ethan Downs.

Also, when keeping it real goes wrong by the RB. 😂#SpeedD x @ethandowns40 pic.twitter.com/vqAO4JDcpX

— 𝕆𝕂𝕃𝔸ℍ𝕆𝕄𝔸-𝕍𝕊-𝕋ℍ𝔼 𝕎𝕆ℝ𝕃𝔻 (@soonergridiron) September 12, 2021
This Season
Many will benefit from the new defensive coaching at Oklahoma; Downs is certainly one to watch. TFB has reported Downs as one of the leaders of the teams (for more on Downs, check out his interview with James Hale).
The defensive end starters look likely to be Reggie Grimes and Downs, with Marcus Stripling and Jonah Laulu also serving key roles. In what feels like a fresh start for Oklahoma football defense, Ethan Downs could be one of the centerpieces in 2022.