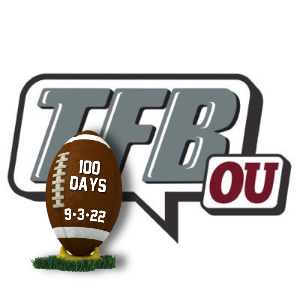 100 Days to Football Time in Oklahoma: #37 Michael Turk
Posted on: July 28, 2022
Player Profile
Position: Punter
Height: 6'0″
Weight: 240
Class: Redshirt Senior
Seasons at OU: 1
Hometown: Dallas, TX
The Path to Norman
Michael Turk played high school football in Texas. He played for Lafayette for one season before transferring to Arizona State, where he sat out for one season. Turk had a very successful career at ASU; he was a Ray Guy Award semifinalist in 2019 and a first-team All-Pac 12 selection in 2020. Following the 2020 season, Turk decided to join the Sooners.
Career so Far
Turk became the starting punter almost immediately after arriving in Norman. He played in 11 games in 2021, averaging a whopping 51.2 yards per punt. Turk was one of only two OU players to earn first-team All-Big 12 honors for the season.
While punting may often go overlooked, Turk certainly has not approached it that way. He is a fan favorite and very active on social media. Additionally, he has caught the eye of many for his punt game. Turk holds five of the top 14 single-game punting averages (min. three punts) in OU history, including the first (an unbelievable 59.7 vs TCU) and third-best. For his career, Turk is averaging 47.7 ypp at the FBS level; the FBS career record (min. 150 punts) is 47.8.
Stats
Years: 2021 | 2020 | 2019 | 2018 | 2017 | Career
Games Played: 11 | 4 | 13 | 0 | 11 | 39
Punts: 35 | 14 | 67 | 0 | 67 | 183
Punt Avg Yards: 51.2 | 47.2 | 46 | 0 | 42.7 | 45.9
Stats via Soonersports.com
This Season
Turk certainly has attention on him in 2022. He was named at starter on the Preseason All-Big 12 team (the only OU player to do so) and was also named to the Ray Guy Award watch list.
Michael Turk named to the @RayGuyAward Watch Listhttps://t.co/oiInJQpTMS@HangtimeYT | #OUDNA pic.twitter.com/mKnfmpzNKu

— Oklahoma Football (@OU_Football) July 27, 2022
Regarded as one of the best punters in the country, Turk has one more season in Norman as the starter to continue his time as a fan favorite.