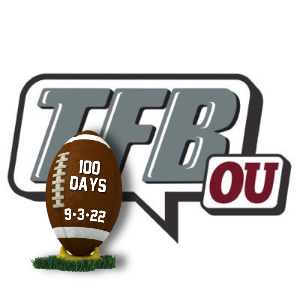 100 Days to Football Time in Oklahoma: #37 Justin Harrington
Posted on: July 28, 2022
Player Profile
Position: Defensive Back
Height: 6'3″
Weight: 208
Class: Redshirt Junior
Seasons at OU: 2
Hometown: Raleigh, NC
The Path to Norman
Justin Harrington took the JUCO route to OU. He attended Bakersfield College in California, across the country from his native North Carolina roots. Harrington visited Norman for the 2019 TCU game; he was impressed with the atmosphere and the staff and players. The visit led to an offer from the Sooners. Super K noted his skillset at the time, mentioning specifically his speed and his knack for being a hitter. After that, the Sooners held strong through a few other visits and landed a signing day announcement from the defensive back.
Justin Harrington | @showwdell_3#DareToBeDifferent#20Deep

— Lincoln Riley (@LincolnRiley) December 18, 2019
Career so Far
Unfortunately, Harrington tore his ACL during fall camp prior to his first season on campus. He redshirted and did not play in 2020.
Harrington saw more action in his second season, playing in four total games. However, his season was short; Harrington entered the transfer portal at the start of October of 2021. Following the staffing changes, he had several meetings with the new coaches and returned to the program in the spring.
Stats
Year: 2021
Games Played: 4
Stats via Soonersports.com
Highlights
This Season
Justin Harrington is back for another shot at playing time with the Sooners. The OU secondary brings back several familiar faces, some new ones, and a completely new coaching staff for 2022. Harrington seems most likely to slot in at safety, but could certainly see time at the Cheetah / nickel spot or corner. While he is unlikely to start this year, Harrington certainly has the tools to be a regular contributor for the Sooners this season.