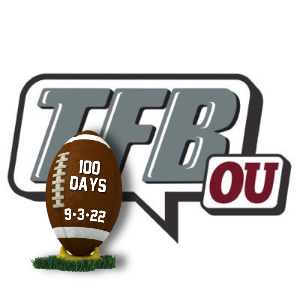 100 Days to Football Time in Oklahoma: #36 Josh Plaster
Posted on: July 29, 2022
Player Profile
Position: Kicker / Punter
Height: 6'0″
Weight: 194
Class: Redshirt Junior
Seasons at OU: 1
Hometown: Flower Mound, TX
The Path to Norman
Josh Plaster was part of the 2019 recruiting class, playing high school football in Texas. He originally committed to Arizona State, staying there for two seasons. After his second year, he decided to relocate to Norman.
AGTG! I'm proud to announce my transfer to the University of Oklahoma! #OUDNA @OU_Football @LincolnRiley @OU_RDougherty @_Mike_McCabe pic.twitter.com/cTwoVutCdn

— josh (@JoshPlaster) April 13, 2021
Career so Far
During his freshman season at ASU, Plaster shared kickoff duties for the first half of the season before an injury cut the year short. Plaster redshirted in 2020.
Following the 2020 season, Plaster joined the Sooners. He did not play in 2021.
Stats
Year: 2021
Games Played: 5
Stats via Soonersports.com
This Season
Plaster has experience at both punter and kicker. A former ASU teammate Michael Turk is returning to start at punter, with Zach Schmit likely to start at kicker. Plaster will likely see some playing time at one or both spots this season, with an opportunity to start at punter in 2023 following the departure of Turk