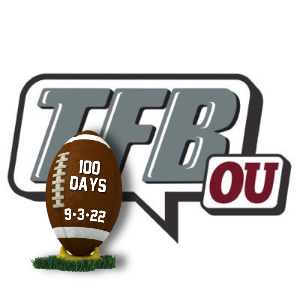 100 Days to Football Time in Oklahoma: #33 Marcus Stripling
Posted on: August 1, 2022
Player Profile
Position: Defensive Lineman
Height: 6'3″
Weight: 241
Class: Senior
Seasons at OU: 3
Hometown: Houston, TX
The Path to Norman
Marcus Stripling was part of a very deep 2019 defensive line class. Playing high school ball in Houston, Stripling announced his commitment to the Sooners live at an announcement ceremony.
Glad to be a sooner…….💉 pic.twitter.com/dVkVxT1mc9

— TheStripWay (@stripling_de) December 19, 2018
The lineman had offers from the likes of Alabama, Georgia, LSU, and many others.
Career so Far
Stripling had a big freshman year, playing in all 14 games for the Sooners. With a host of veterans on the line, Marcus provided depth in 2019.
In 2020, Stripling once again played at defensive end. He played in most of the season's games and certainly improved throughout the season.
Stripling continued his trend in 2021; he played in 11 games in a reserve role on a defensive line that hosted a lot of veterans.
Stats
Years: 2021 | 2020 | 2019 | Career
Games Played: 11 | 10 | 14 | 35
Tackles: 6 | 8 | 6 | 20
TFL: 2.5 | 3.5 | 1 | 7
Sacks: 1 | 2.5 | 1 | 4.5
PBU: 1 | 0 | 0 | 1
Stats via Soonersports.com
Highlights
Big sack by Marcus Stripling on 2nd down.

Ethan Downs also in on the play. pic.twitter.com/CazEdt3Fiz

— 𝕆𝕂𝕃𝔸ℍ𝕆𝕄𝔸-𝕍𝕊-𝕋ℍ𝔼 𝕎𝕆ℝ𝕃𝔻 (@soonergridiron) December 30, 2021
https://twitter.com/soonergridiron/status/14763987032586567688
This Season
Stripling has been working with the defensive ends over the off-season. Reggie Grimes and Ethan downs are expected to start at the two outside spots on the defensive line, with Jonah Laulu and Stripling right behind them. Stripling has two more seasons remaining in Norman (assuming he chooses to take advantage of the 2020 season waiver), but both Downs and Grimes will be back in Norman in 2023 as well. He will have to battle hard this year to earn his snaps and make his presence felt as he wraps up his career as a Sooner.