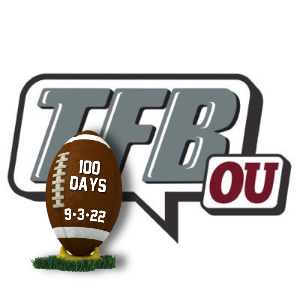 100 Days to Football Time in Oklahoma: #32 R Mason Thomas
Posted on: August 2, 2022
Player Profile
Position: Defensive Lineman
Height: 6'2″
Weight: 222
Class: Freshman
Seasons at OU: 0
Hometown: Fort Lauderdale, FL
The Path to Norman
R Mason Thomas, out of Florida, took a winding road to commit to the Sooners. Thomas committed to Iowa State in the summer of 2021 and stuck with the Cyclones right up until signing day. When the regime changed occured in Norman, Coach Venables and Coach Chavis immediately made Thomas a target. He visited Norman a month later and flipped to the Sooners on signing day, rounding out an impressive Edge / OLB class of Jonah La'ulu, Kevonte Henry, and Thomas for Coach Chavis.
https://twitter.com/OU_Football/status/14889516365758586966
Highlights
This Season
The defensive end / edge spot is a loaded one for the Sooners in 2022 and will certainly have a lot of competition. Familiar faces like Reggie Grimes, Ethan Downs, and Marcus Stripling, along with newcomer Laulu, are expected to highlight the group. 2022 will likely be a redshirt season for Thomas before his explosiveness and athleticism are more frequently used in 2023 and beyond.