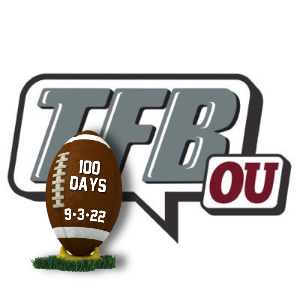 100 Days to Football Time in Oklahoma: #31 Jalen Redmond
Posted on: August 3, 2022
Player Profile
Position: Defensive Lineman
Height: 6'3″
Weight: 298
Class: Redshirt Junior
Seasons at OU: 4
Hometown: Midwest City, OK
The Path to Norman
Jalen Redmond and the Sooners circled each other for a long time. A basketball star, he finally circled back to football during the spring of his sophomore year. Several short months later, with no real film out there, the Oklahoma product attended the 2016 ChampUBBQ. Redmond stayed in touch with the coaching staff after that, making it to several OU games. He finally picked up an OU offer in January of 2017, attending Junior Day a month later.
OU commits like Jordan Kelley and Patrick Fields continued to push Redmond toward the Sooners. Redmond returned to Norman during the summer of 2017, shortly after Coach Riley took the reins. Finally, the ChampUBBQ of July 2017 saw him decide to play for Oklahoma.
I've decided to stay HOME!!!! #BOOMERSOONER @LincolnRiley @OU_CoachMike @BrandonTFB pic.twitter.com/ndStVJssf7

— J RED (@jalen_redmond) July 30, 2017
Career so Far
Redmond enrolled early in Norman, showing up in the spring. TFB heard that he was impressing early, but an unfortunate medical situation arose for Jalen. He developed blood clots and had to be admitted to a hospital. Thankfully, a very scary situation took a positive turn. Jalen was fully cleared in October and played in three consecutive games. In that limited action, he looked very much like the real deal, recording six tackles and 2.5 TFL.
In 2019, Redmond was able to see the field in a much larger role. He played in 13 of the Sooners' 14 games and showed signs of absolute dominance. Jalen led the team with 6.5 sacks and ranked third with 11.0 TFL, fitting in at defensive tackle.
2020 was a redshirt season for Redmond, as he opted to not play.
2021 was a bit of a hit and miss year for Redmond due to injury throughout the year. He played in eight games on a defensive line with high expectations that didn't quite meet them. It was undeniable, however, that the line was operating at its highest level when Redmond was part of the group.
Stats
Years: 2021 | 2020 | 2019 | 2018 | Career
Games Played: 8 | 0 | 13 | 3 | 24
Tackles: 19 | 0 | 23 | 6 | 48
TFL: 8 | 0 | 11 | 2.5 | 21.5
Sacks: 3.5 | 0 | 6.5 | 0 | 10
FF: 0 | 0 | 1 | 0 | 1
FR: 2 | 0 | 0 | 0 | 2
PBU: 0 | 0 | 2 | 0 | 2
Stats via Soonersports.com
Highlights
Key with the 𝙋𝙊𝙋, J Red with the 𝘽𝙄𝙂 𝙈𝘼𝙉 𝙏𝘿 🔥

📺 FOX | @KeShawn2x @jalen_redmond pic.twitter.com/AvzhLJSD6o

— Oklahoma Football (@OU_Football) November 20, 2021
This Season
The line lost Isaiah Thomas, Perrion Winfrey, and Nik Bonitto to the NFL Draft over the offseason, leaving Redmond with by far the most experience in crimson and cream on the line. Redmond has been able to work throughout the spring, a big asset for someone who has been banged up on and off throughout his career. Expectations are high in 2022, as evidenced by the national attention he has received.
Big Red! Jalen Redmond named to the Bednarik Award Watch List. https://t.co/oiInJQHvbs@jalen_redmond | #OUDNA pic.twitter.com/CuUJBCXCH7

— Oklahoma Football (@OU_Football) August 1, 2022
Redmond is set to start on the interior again in 2022, with Jeffery Johnson beside him. It certainly feels that this year could be a really big one for the lineman as he looks to be one of the faces of the new Sooners defense.