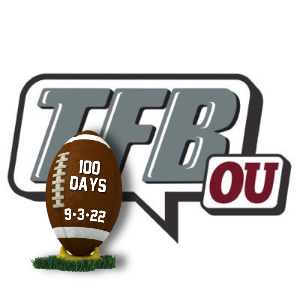 100 Days to Football Time in Oklahoma: #31 Jackson Sumlin
Posted on: August 3, 2022
Player Profile
Position: Tight End / Half Back
Height: 6'2″
Weight: 218
Class: Redshirt Sophomore
Seasons at OU: 2
Hometown: Tucson, AZ
The Path to Norman
Jackson Sumlin is no stranger to Oklahoma. His father, Kevin Sumlin, was an assistant coach at OU from 2003-2007, coaching tight ends and special teams, then moving to co-offensive coordinator and wide receivers. James Hale reported that Coach Sumlin, "told me that the family felt it would be good if Jackson got away from home and since OU uses the fullback, H-back, and tight end as well as anybody in college football, they felt it would be a good place for him." Sumlin joined the Sooners shortly before the 2020 season.
Career so Far
Sumlin did not play in 2020, taking a redshirt season.
In 2021, Sumlin was a regular on the field, playing in 11 games. He made a handful of catches throughout the season and was a factor on special teams.
Stats
Year: 2021
Games Played: 11
Receptions: 4
Tackles: 1
Stats via Soonersports.com
Highlights
This Season
While Jeremiah Hall departed for the NFL, the Sooners returned Brayden Willis at the tight end spot and brought in Daniel Parker as a transfer. Not only that, but freshmen newcomers Jason Llewellyn and Kaden Helms will be joining the college game this fall. That makes for a crowded tight end spot; Sumlin will continue to provide depth at tight end and contribute on special teams in 2022.