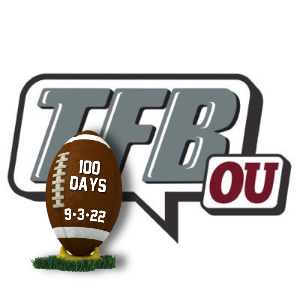 100 Days to Football Time in Oklahoma: #29 Jordan Mukes
Posted on: August 5, 2022
Player Profile
Position: Defensive Back
Height: 6'1″
Weight: 205
Class: Sophomore
Seasons at OU: 1
Hometown: Midwest City, OK
The Path to Norman
Jordan Mukes and the Sooners started circling each other in early 2020. The Oklahoma native played corner at Choctaw and used his high-end athleticism to shut down one side of the field. He visited Norman and attempted to make multiple visits in the spring, but COVID got in the way. Mukes received an offer anyway, and committed just one week later.
#Commited After great conversation with family and coaches I will be deciding to stay home. @LincolnRiley @CoachGrinch @CoachRoyM @JakeCorbin @1COACH_CARTER @Cam_Jourdan @BrandonDrumm247 @Josh_Scoop @okprepstv pic.twitter.com/BIMDInt24T

— 29 (@JordanMukes2) March 31, 2020
Career so Far
Mukes was a regular on the field in his first season on campus. He played in 12 games, mostly on the special teams unit with some time at safety as well.
Stats
Year: 2021
Games Played: 12
Tackles: 4
Stats via Soonersports.com
Highlights
This Season
The secondary has a mixture of untested talent and experienced players. At safety, Key Lawrence and Billy Bowman are set to start. A group including Bryson Washington, Justin Harrington, Robert Spears-Jennings, and Mukes will all be providing depth at the spot. The new defensive staff will be an opportunity for a fresh start for many of the secondary, Mukes included, to show what they can do.