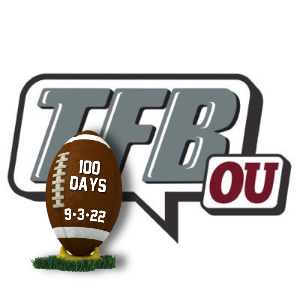 100 Days to Football Time in Oklahoma: #28 Danny Stutsman
Posted on: August 6, 2022
Player Profile
Position: Linebacker
Height: 6'4″
Weight: 238
Class: Sophomore
Seasons at OU: 1
Hometown: Windermere, FL
The Path to Norman
Danny Stutsman, a linebacker out of Florida, received his OU offer back in March 2020; the Oklahoma offer was one of his first. OU made Stutsman a priority, fending off schools including Texas A&M, Oklahoma State, and Virginia Tech. Without even getting the young man to campus, the Sooners landed a commitment a couple months after the offer went out.
I am committed to…
🎥:@lindseybynum pic.twitter.com/THuUSZWMtP

— DannyStutsman (@FbStutsman) May 4, 2020
Charlie put a spotlight on Danny during his last year of high school; check it out below.
Career so Far
The praise was high for Stutsman even before his first season, with consistent mention of the linebacker. He played right away, appearing in 10 games; the three he missed were due to injury. His toughness and energy were quickly noticed by Sooner nation. In a position group with plenty of experienced players, Stutsman still managed to earn a large share of playing time. Stutsman ended the season ninth on the team in tackles, tied with Isaiah Thomas and one behind Nik Bonitto.
Stats
Year: 2021
Games Played: 10
Tackles: 38
TFL: 1.5
Sacks: 1
FF: 2
Stats via Soonersports.com
This Season
The linebacker group will look different in 2022 under new coaching. Returning players David Ugwoegbu, DaShaun White, and Stutsman bring experience to the MLB and WLB spots. Shane Whitter, Kobie McKinzie, and Kip Lewis are part of a talented group working behind the leaders at the spot. It's tough to predict who the two starters will be out of the three, but Sooner fans should expect to see a whole lot of Stutsman in 2022.