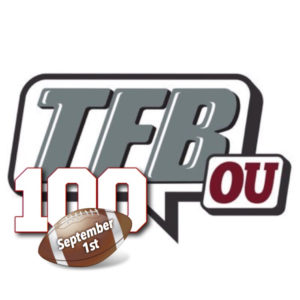 100 Days to Football Time in Oklahoma: #26 Kennedy Brooks
Posted on: August 6, 2019
The Path to Norman
The Texas product was offered by the Sooners about a year before his signing day. Despite having Trey Sermon committed for the 2017 class, the Sooners were after two running backs as the running back group looked possible to slim down. The odds of Samaje Perine and Joe Mixon leaving seemed high (and eventually happened) and nobody was certain how well Rodney Anderson would be able to perform once he got back to the field after two major injuries (quite well, as it turned out). Brooks committed in the fall of the 2016 season. 
I'm so blessed to say I'm officially committed to The University of Oklahoma pic.twitter.com/NOt5nDkGDK

— Kennedy Brooks (@kennedyBrooks26) October 3, 2016
Career so Far
The expectation was for Brooks to redshirt in 2017, and redshirt he did. However, it happened in an unfortunate way. Kennedy tore his labrum shortly before the season and had to undergo surgery. 
Before the 2018 season, Rodney Anderson, Trey Sermon, and Marcelias Sutton were all assumed to be ahead of Brooks on the depth chart. Not to… ahem… toot my own horn, but it seemed like there was a spot for Brooks as well. Sure enough, Brooks turned in a thousand-yard season, was included on the USA Today Freshman All-American squad, and was an All-Big 12 Honorable Mention. He ranked third nationally with 8.87 yards per rush, just shy of Greg Pruitt's OU record of 8.97. Sooner fans' only complaint regarding Brooks was a lack of carries in the early part of the season.
Current Profile
Position: Running Back
Height: 5'11"
Weight: 209
Year: Redshirt Sophomore
Stats

Highlights
2019 Season
The Sooners return their top three running backs based on 2018 yardage for 2019, so it will be a crowded backfield. However, Kyler Murray was second on the team in rushing yards last season. With it seeming unlikely that this year's quarterback will run as much as Murray, there will probably be more carries to go around for the running backs.
He has already been recognized as a Preseason All-Big selection and has high expectations this fall. Kennedy will have to put in extra work after missing most of the summer; but 2019 has the makings of an All-Conference season for Mr. Brooks.