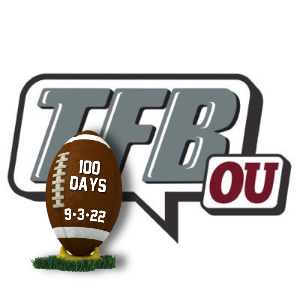 100 Days to Football Time in Oklahoma: #25 Justin Broiles
Posted on: August 9, 2022
Player Profile
Position: Defensive Back
Height: 5'11"
Weight: 190
Class: Redshirt Senior
Seasons at OU: 5
Hometown: Oklahoma City, OK
The Path to Norman
Justin Broiles was a very highly ranked DB out of Oklahoma in the 2017 class. Broiles' interactions with the staff picked up about a year before his signing with an offer.
Blessed to have Received offer #11 from The University of Oklahoma ⭕️🙌🏾 #OUDNA #soonersquad17 #Sooners pic.twitter.com/wPiaww0sNV

— Justin Broiles🧥 (@JustinbroilesJ) February 13, 2016
A short month later, Broiles announced his desire to be a Sooner. He proved to be a huge recruiting force following his committment.
#SoonerSquad17 ⭕️🙌🏾 pic.twitter.com/JlMEPnx2kg

— Justin Broiles🧥 (@JustinbroilesJ) March 7, 2016
Career so Far
2017 was a redshirt season for the OK Preps defensive back, coupled with some minor injury time.
His 2018 campaign saw Broiles start in five games and play in eleven before an injury ended his season early. He played a bit of safety, nickel, and corner.
2019 was similar to the year before; Broiles made appearances at all three levels of the secondary. His only start came in the Peach Bowl, when he started at safety in place of the injured DTY and then slid down to nickel when Bookie was ejected.
In 2020, Justin Broiles again served in the secondary, but once again had the injury bug hit. He played in the first six games of the season, then missed the final five games due to injury.
2021 saw Broiles' highest level of play yet, with playing time in 13 games and nine starts. He was fourth on the team in tackles and provided a veteran presence.
Stats
Years: 2021 | 2020 | 2019 | 2018 | Career
Games Played: 13 | 6 | 14 | 11 | 44
Tackles: 55 | 6 | 26 | 24 | 111
TFL: 3.5 | 0 | 1 | 1.5 | 6
Interceptions: 2 | 0 | 0 | 0 | 2
PBU: 4 | 0 | 1 | 2 | 7
FR: 2 | 0 | 0 | 0 | 2
Rush TD: 1 | 0 | 0 | 0 | 1
Stats via Soonersports.com
Highlights
OMG what a blast by Turk.

Trevon West with the coverage pressure and Justin Broiles in the right place at the right time.#OUDNA | #BoomerSooner pic.twitter.com/Sot82ItxU0

— 𝕆𝕂𝕃𝔸ℍ𝕆𝕄𝔸-𝕍𝕊-𝕋ℍ𝔼 𝕎𝕆ℝ𝕃𝔻 (@soonergridiron) November 28, 2021
Justin Broiles picks it off to stop Oregon's drive. pic.twitter.com/bA23fdCQq9

— 𝕆𝕂𝕃𝔸ℍ𝕆𝕄𝔸-𝕍𝕊-𝕋ℍ𝔼 𝕎𝕆ℝ𝕃𝔻 (@soonergridiron) December 30, 2021
Justin Broiles in the right place at the right time and #SpeedD gets a 4th down stop. pic.twitter.com/aVkNPKaVyS

— 𝕆𝕂𝕃𝔸ℍ𝕆𝕄𝔸-𝕍𝕊-𝕋ℍ𝔼 𝕎𝕆ℝ𝕃𝔻 (@soonergridiron) October 30, 2021
This Season
Broiles, now in his sixth season in Norman, has repeatedly been mentioned as a leader in the secondary for this team. This season will find him under his third defensive coordinator at OU. The 2022 defense will use the "Cheetah" position, a NB / SAM hybrid. Justin Broiles and Trey Morisson are the most likely candidates from the defensive backs, while Jaren Kanak and Kip Lewis fit in from the linebacker group. Broiles is likely to start game one, but the others, Kanak in particular, will certainly earn plenty of snaps. In his last year in Norman, Broiles will provide a veteran presence and plenty of playing time.