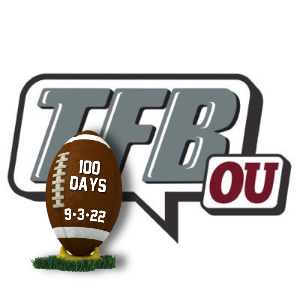 100 Days to Football Time in Oklahoma: #24 Marcus Major
Posted on: August 10, 2022
Player Profile
Position: Running Back
Height: 6'0″
Weight: 219
Class: Redshirt Junior
Seasons at OU: 3
Hometown: Oklahoma City, OK
The Path to Norman
Marcus Major, an Oklahoma City product, was a highly-ranked recruit in the 2019 class. He ended up with offers from plenty of top programs, including Alabama, Auburn, Florida, Texas, and USC, but Oklahoma ultimately won out his commitment.
Im Staying Home. #BoomerSooner #NewWave19 pic.twitter.com/UaYRa4Wtsj

— MDMJ24 (@Md24jr) July 1, 2018
Career so Far
In 2019, Major played in three games; two of them were conference matchups. Unfortunately, he was injured in October and missed the remainder of the season, using it as his redshirt year.
2020 seemed to be the perfect opportunity for more playing time, as the running back room was severely depleted during the offseason. However, despite playing in almost every game, Major received relatively few carries. Then, he turned it up to 11 in the Cotton Bowl against the cupcake Florida team, where he racked up over 100 yards on the ground.
Major had a rocky start to the 2021 season, as he was academically ineligible for several games. He played in six games throughout the season in a reserve role at back.
Stats
Years: 2021 | 2020 | 2019 | Career
Games Played: 6 | 10 | 3 | 19
Carries: 15 | 35 | 10 | 60
Rush Yards: 83 | 187 | 28 | 298
Rush TD: 0 | 3 | 0 | 3
Receptions: 1 | 2 | 0 | 3
Receiving Yards: 12 | 29 | 0 | 41
Stats via Soonersports.com
Highlights
Marcus Major was running strong. 💪 pic.twitter.com/DZTaYCyRVD

— 𝕆𝕂𝕃𝔸ℍ𝕆𝕄𝔸-𝕍𝕊-𝕋ℍ𝔼 𝕎𝕆ℝ𝕃𝔻 (@soonergridiron) October 31, 2021
Marcus Major breaks out the spin move and then dump trucks the defender for a an electric 5-yard gain. 😱 pic.twitter.com/5LQWRIIOf2

— 𝕆𝕂𝕃𝔸ℍ𝕆𝕄𝔸-𝕍𝕊-𝕋ℍ𝔼 𝕎𝕆ℝ𝕃𝔻 (@soonergridiron) December 30, 2021
This Season
The running back room will plenty of competition in 2022. Major was limited in spring ball due to a hamstring issue, giving others opportunities for valuable practice snaps. However, he is having a great fall camp. Eric Gray will almost certainly be the starter for the Sooners. After him, Major will be competing with a group including Jovantae Barnes and Gavin Sawchuck for next man up. With several season of college football experience, this is the year for the running back to make the jump and be a big factor in this offense.