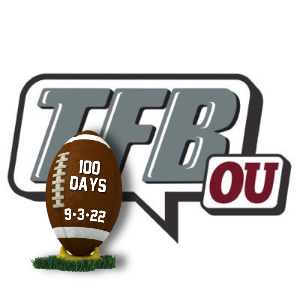 100 Days to Football Time in Oklahoma: #23 Todd Hudson
Posted on: August 11, 2022
Player Profile
Position: Running Back
Height: 5'7″
Weight: 183
Class: Redshirt Junior
Seasons at OU: 3
Hometown: League City, TX
The Path to Norman
Todd Hudson came to Norman out of League City, Texas, playing for Clear Springs High School. After a prolific senior season in which he was chosen most valuable player of the all-District 24-6A football squad, he signed with the Sooners.
https://twitter.com/T0DD_hudson/status/1090775795142930433
Career so Far
Hudson took a redshirt season in 2019. In 2020, he provided depth at running back. He played in two of OU's easiest games, getting carries against Missouri State and Florida.
2021 was similar to 2020 for Hudson. He played in two games for the Sooners, despite a backfield needing more bodies.
Stats
Years: 2021 | 2020 | Career
Games Played: 2 | 2 | 4
Carries: 9 | 8 | 17
Rush Yards: 25 | 20 | 45
Rush TD: 2 | 0 | 2
Stats via Soonersports.com
Highlights
This Season
Eric Gray is set to start at running back in 2022, with Jovantae Barnes, Marcus Major, and Gavin Sawchuck contributing as well. An extremely solid group of walk-on backs, Tawee Walker, Jaden Knowles, and Todd Hudson will also be fighitng to play. In a new offensive system, Hudson should have more opportunities for carries in 2022.