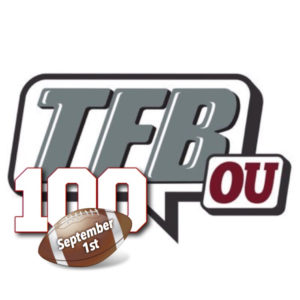 100 Days to Football Time in Oklahoma: #23 DaShaun White
Posted on: August 9, 2019
The Path to Norman
DaShaun White was headed to College Station for a long time. The path to becoming a Sooner took some twists and turns to happen.
The OU staff started recruiting DaShaun White over a year before his signing day. Shortly before the summer, his offer came.
Blessed to receive an offer from The University of Oklahoma 🔴⚪️ #BoomerSooner pic.twitter.com/9i8nl2C6yj

— DaShaun White (@dmw23_) April 30, 2017
It felt that the Sooners were in a great spot early on. However, White's first public commitment at the end of the summer went to the Aggies. At the time, it was clear that he was still torn and that OU wasn't out of the running. The entire fall, the Sooners' coaching staff kept at the talented linebacker. Their hard work eventually paid off.
Home is where the heart is. #BoomerSooner pic.twitter.com/05LFWXuo6M

— DaShaun White (@dmw23_) January 7, 2018
For more on his recruitment, TFB's Charlie wrote how the staff wouldn't let White get away.
Career so Far
White played in every game for the Sooners, although it certainly didn't feel like it due to the limited snaps he saw in many games, much to the chagrin of many an OU fan. DaShaun showed flashes in the time he saw, leaving fans clamoring for more.
Current Profile
Position: Linebacker
Height: 6'0"
Weight: 224
Year: Sophomore
Stats

Highlights
2019 Season
The two inside linebacker spots currently seem to be Kenneth Murray at MIKE and DaShaun White at WILL. TFB heard that White was the most complete linebacker following spring ball and has looked great through the summer. 2019 could be an All-Big 12 level season for the Sooner linebacker.