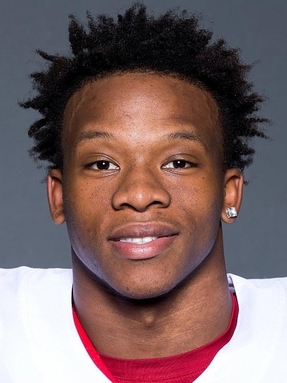 100 Days to Football Time in Oklahoma: #21 Marcelias Sutton
Posted on: August 11, 2018
Image and stats via SoonerSports.com
The Path to Norman
Lackawanna CC Football almost seemed liked a satellite campus for Oklahoma for a couple years. The 2016 class included Ashton Julious, Emmanuel Beal, and Kapri Doucet from the program, while 2017 saw the addition of Marcelias Sutton.
Career So Far
Sutton enrolled early with other members of the 2017 class. Despite a fractured foot during the spring, Sutton was able to contribute in 2017. He was one of the primary kick returners and an option at running back.
Current Profile
Position: Running Back
Height: 5'9"
Weight: 192
Year: Senior
Stats

Highlights
WATCH: Marcelias Sutton gets his first OKlahoma touchdown. #Sooners pic.twitter.com/AtIF3mNC7f

— Sooner Gridiron (@soonergridiron) September 2, 2017
2018 Season
Sutton is entering his senior season. While there was potential to use his speed in 2017, Coach Riley had so many options that Sutton was not often used. With the departure of Abdul Adams, Sutton will vie for the spot of third on the depth chart along with Kennedy Brooks and T.J. Pledger. Regardless of his spot on the depth chart, his speed should help him see the field in 2018 and be a part of the Sooners' offense.