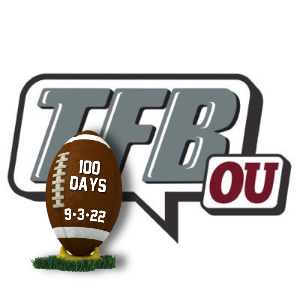 100 Days to Football Time in Oklahoma: #18 Kaden Helms
Posted on: August 16, 2022
Player Profile
Position: Tight End / Half Back
Height: 6'5″
Weight: 225
Class: Freshman
Seasons at OU: 0
Hometown: Bellevue, NE
The Path to Norman
Kaden Helms came to Norman out of Nebraska. The high four-star tight end was offered Coach Joe Jon Finley shortly after joining staff back in January 2021. Helms' top four included Miami, Arizona State, and North Carolina, along with the Sooners. Finley locked down Helms, who joined Llewellyn as freshman tight ends in the 2022 OU recruiting class.
Prayed for times like this… #Committed 😁 pic.twitter.com/FZEQUPjsAi

— Kaden Helms (@KadenJHelms) July 17, 2021
Highlights
This Season
The tight end room has three new faces in 2022, with transfer Daniel Parker joining Llewellyn and Helms as newcomers. Brayden Willis returns to be the main option at the position, while Parker's experience will make him a frequent player as well. The two freshman are both extremely talented, with Helms' size and skillset leaning more toward a big receiver. Both Willis and Parker are seniors, which will llikely allow Helms a chance at a redshirt season in 2022 before he and Llewellyn highlight the spot in 2023.