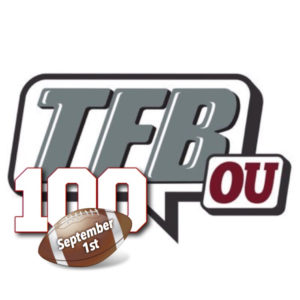 100 Days to Football Time in Oklahoma: #18 Austin Stogner
Posted on: August 14, 2019
The Path to Norman
OU is on a roll of big-time tight ends. Mark Andrews won the Mackey Award; Grant Calcaterra is expected to have an All-Big 12, and maybe even All-American, level season. Cue the Austin Stogner music.
Stogner was a highly-ranked tight end in the 2019 class, standing out as a big, physical player. As one of his first offers, OU battled for the young man's commitment with plenty of other top-tier programs. Austin, however, decided to end his recruitment fairly early, committing a year and a half before his signing day. He was part of four high-profile freshman receivers who signed with the Sooners, the others being Jadon Haselwood, Theo Wease, and Trejan Bridges.
#NewWave19 pic.twitter.com/3lCO1rN6Wa

— Austin Stogner (@austin_stogner) June 23, 2017
Current Profile
Position: Tight End
Height: 6'6"
Weight: 237
Year: Freshman
Highlights
2019 Season
It's almost hard to believe, but Stogner is already bigger than Calc by two inches. Austin is going to be a monster at OU. It might, however, take another year to truly start. With Calc and TD maker Lee Morris ahead of him, playing time will be tough to come by; the staff had a hard enough time getting Morris reps this past season. Stogner is certainly talented enough, and will probably play in the max four games, but a redshirt season is possibly in store. Regardless, look for Austin Stogner to end up a huge receiver for the Sooners in his career.