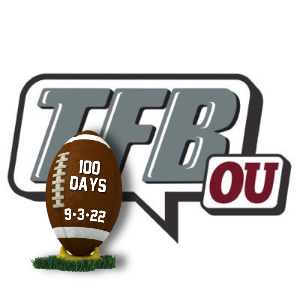 100 Days to Football Time in Oklahoma: #17 Marvin Mims
Posted on: August 17, 2022
Player Profile
Position: Wide Receiver
Height: 5'11"
Weight: 184
Class: Junior
Seasons at OU: 2
Hometown: Richmond, VA
The Path to Norman
Marvin Mims, a DFW native, was a star in high school. Hailing from Lone Star HS, Mims was one of the top receivers in the 2020 class, posting eye-popping stats.
"– Texas high school state record holder for receiving yards in a career (5,485)
– Texas high school state record holder for receiving yards in a season (2,626)
– 6th in single-season receiving touchdowns (32) in Texas high school history (CeeDee Lamb had 33)
– 15th in single-season receptions (114) in Texas high school history
– During his senior season, he posted 22.5 yards per catch"
He had an impressive offer sheet; Wisconsin, Ohio State, Texas A&M, and Notre Dame all offered the young man. OU offered in February, 2019, roughly one year before the 2020 class signing day. In August of 2019, Mims committed to Stanford. However, he made a trip to Norman in October. After that, it was only a matter of time…
BOOMER SOONER!! ⭕️ #20Deep @OU_CoachGundy pic.twitter.com/Q6GKyI1mgR

— Marvin Mims Jr. (@marvindmims) November 15, 2019
Career so Far
Mims was electric in his first season as a Sooner. OU's receiving group took some hits due to suspensions and injuries; Marvin Mims stepped up and was often the best receiver on the field for the Sooners. He finished in a tie for most receptions on the team, led the team in receiving yards, YPC, and touchdowns, where he had as many as the next two receivers combined. It was a freshman season for the ages, which you can read more on below:
He earned FWAA Freshman All-American status, the first OU receiver to do so, along with freshman All-American honors from ESPN and the Athletic and a second-team All-Big 12 nod.
Mims' sophomore campaign was much quieter, as the struggling offense didn't leave many opportunities for anyone. He still managed to have several miraculous catches and showed his talent, earning All-Big 12 Honorable Mention and Academic All-Big 12 Second Team honors. Even in a quiet year, Mims led the Big 12 and ranked fourth nationally with 22.0 yards per catch.
Stats
Years: 2021 | 2020 | Career
Games Played: 13 | 11 | 24
Receptions: 32 | 37 | 69
Receiving Yards: 705 | 610 | 1315
Receiving TD: 5 | 9 | 14
Carries: 1 | 2 | 3
Rush Yards: 15 | 17 | 32
Stats via Soonersports.com
Highlights
This Season
The 2022 offense provides a fresh start for players like Mims. A new offensive coordinator and quarterback will offer new opportunities. Mims has already proven himself to be a game-changing receiver and has continued on that path throughout the offseason. He will be a starter once again this year as he looks to lead the receiver group back into the spotlight at OU. Depending on the kind of season he has, Mims could decide that the NFL is the right move after this year. However long he's in Norman, Sooner fans should enjoy watching this special receiver.