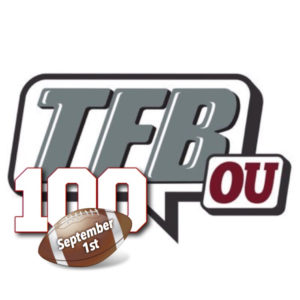 100 Days to Football Time in Oklahoma: #15 Tanner Mordecai
Posted on: August 17, 2019
The Path to Norman
The 2018 class quarterback spot for OU went through a lot of transition before finding the right guy. Tanner was offered by the Sooners in May of 2017. His trainer, Kevin Murray, is the father of OU quarterback Kyler Murray. Additionally, the Mordecai family is close friends with the Henry family at OU; Dr. Henry teaches at the University, while her husband Kevin Henry works alongside Toby Rowland as a color analyst for the men's basketball games. Needless to say, they had several people to talk to for opinions on Norman. Tanner decided quickly that OU was the right place.
June 1, 2017
Although Bob Stoops stepping down the next week came as a surprise to the Mordecai family, Tanner stayed solid to OU. TFB got to know his family better after his commitment, speaking with Tanner's father Micah.
TFB With the Family spotlights @MicahMordecai, father of signed 2018 QB @t_mordecai, as he discusses their family and their progression to being #Sooners (via @TFB_Sooners) https://t.co/XgHVgtUXzI

— Ryan Lewis (@RyanLewis_TFB) January 11, 2018
Career so Far
Mordecai saw action in the first two games of the season in 2018 and was one of the offensive scout team players of the year.
Current Profile
Position: QB
Height: 6'2"
Weight: 212
Year: Redshirt Freshman
Stats

Highlights
2019 Season
Tanner Mordecai is an extremely talented quarterback. Last year, it looked like this would be his season to start. However, Jalen Hurts announcing a transfer to OU changed that assumption. TFB has repeatedly heard how good Mordecai, Hurts, and freshman Spencer Rattler are and that all three would be fantastic starters for the Sooners. However, Hurts is being set apart by his experience, maturity, and leadership. With all signs pointing towards Jalen taking the starting job, Mordecai will probably be the first quarterback behind him this season as a piece of OU's elite quarterback room.